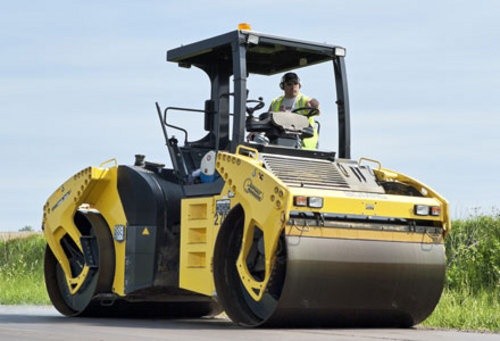 BOMAG Tandem Vibratory Roller, Asphalt Manager BW 190 AD-4 AM OPERATION & MAINTENANCE MANUAL
This is a COMPLETE Operation & Maintenance Manual for the BOMAG Tandem Vibratory Roller, Asphalt Manager BW 190 AD-4 AM.
SERIAL NUMBERS:
S/N 101 920 26....
Table of Contents:
=========
Technical Data
Safety regulations
Indicators and Controls
3.1 General notes
3.2 Description of indicators and control elements
3.3 Asphalt Manager display and control elements
3.4 Description of display and control elements for Asphalt Manager BOP
3.5 Line diagram Automatic (EVIB)
3.6 Description of line diagram Automatic (EVIB)
3.7 Line diagram Manual (EVIB)
3.8 Description of line diagram Manual (EVIB)
Operation
4.1 General notes
4.2 Tests before taking into operation
4.3 Starting the engine
4.4 Starting with jump wires
4.5 Driving the machine
4.6 Stopping the machine, operating the parking brake
4.7 Shutting the engine down
4.8 Switching vibration of the rear drum on and off
4.9 Asphalt Manager, selecting operating mode, switching on/off
4.10 Measuring pass with Asphalt Manager
4.11 Finishing compaction of a track
4.12 Printing measuring data after completing compaction
4.13 Changing the paper roll in the measuring value printer
4.14 Changing the printer ribbon in the measuring value printer
4.15 Operating the crabwalk
4.16 Switching the pressure sprinkling system on and off
4.17 Sprinkling of edge cutter
4.18 Actuating the emergency stop switch
4.19 Adjusting the rotation stop for travel lever movement
4.20 Adjusting the driver's seat
4.21 Opening or closing the cabin window
4.22 Towing
4.23 Transport
Maintenance
5.1 General notes on maintenance
5.2 Fuels and lubricants
5.3 Fuels, lubricants and filling capacities
5.4 Running-in instructions
5.5 Maintenance chart
5.6 Check the engine oil level
5.7 Check the fuel level
5.8 Check the hydraulic oil level
5.9 Check the coolant level
5.10 Check / empty the fuel pre-cleaner (water separator) / bleed
5.11 Check the water level
5.12 Check, clean radiator, fuel cooler, hydraulic oil cooler and intercooler
5.13 Checking the oil level in vibrator shaft tube
5.14 Change the engine oil
5.15 Change the engine oil filter cartridge
5.16 Checking the anti-freeze concentration
5.17 Servicing the air conditioning (summer operation)
5.18 Service the battery
5.19 Change the fuel pre-filter cartridge
5.20 Change the fuel filter cartridge
5.21 Change the oil in the drum drive gear
5.22 Checking, tensioning, lubricating the steering chain
5.23 Check the engine mounts
5.24 Checking the V-belt, tighten, if necessary replace the V-belt
5.25 Check, adjust the valve clearance
5.26 Changing hydraulic oil and breather filter
5.27 Changing the hydraulic oil filter
5.28 Grease the articulated joint
5.29 Change the coolant
5.30 Changing the oil in the vibrator shaft tube
5.31 Replace the injection valve
5.32 Check, clean, change the combustion air filter
5.33 Clean the water tank
5.34 Clean the water filter
5.35 Water sprinkler system, maintenance in the event of frost
5.36 Fill the provision tank for the windscreen washer system
5.37 Adjust the scrapers
5.38 Tightening torques
5.39 Engine conservation
Trouble shooting
6.1 General notes
6.2 Engine
=========
Model Specification: BOMAG Tandem Vibratory Roller, Asphalt Manager BW 190 AD-4 AM
Language: English
File Format: PDF
Total Pages: 134
Requirements: Adobe PDF Reader
ZOOM IN/OUT: YES
Compatible: All Versions of Windows & Mac
=========
THIS MANUAL DESCRIBES PROCEDURES FOR OPERATION, HANDLING, LUBRICATION, MAINTENANCE, CHECKING, AND ADJUSTMENT. IT WILL HELP THE OPERATOR AND MAINTENANCE PERSONNEL REALIZE PEAK PERFORMANCE THROUGH EFFECTIVE, ECONOMICAL AND SAFE MACHINE OPERATION AND MAINTENANCE.
This PDF file is Bookmarked and SEARCHABLE to make what you need easy to find.
ALL MANUALS ARE WINDOWS 7, VISTA32 AND 64, XP, ME, 98, NT, 2000 COMPATIBLE AND WORK WITH MAC!
INSTANT DOWNLOAD UPON RECEIPT OF YOUR PAYMENT..
FIND IT...PRINT IT...USE IT...then Trash it.
Tons of pictures and diagrams at your fingertips!!
All pages are printable, so run off what you need & take it with you into the garage or workshop.
Save Money $$ By doing your own repairs! These manuals make it easy for any skill level WITH THESE VERY EASY TO FOLLOW, STEP-BY-STEP INSTRUCTIONS!
INSTANT DOWNLOAD means NO SHIPPING COST or WAITING FOR A CD OR PAPER MANUAL TO ARRIVE IN THE MAIL...YOU WILL RECEIVE THIS MANUAL TODAY VIA INSTANT DOWNLOAD ON COMPLETION OF PAYMENT VIA OUR SECURE PAYMENT PROCESSOR. WE ACCEPT ALL MAJOR CREDIT/DEBIT CARDS/PAYPAL.
Looking for some other Service Repair Manual, please check:
https://sellfy.com/fileto
Thanks for visiting!
You'll get 1 file (490.0bytes)
More products from Digital Download