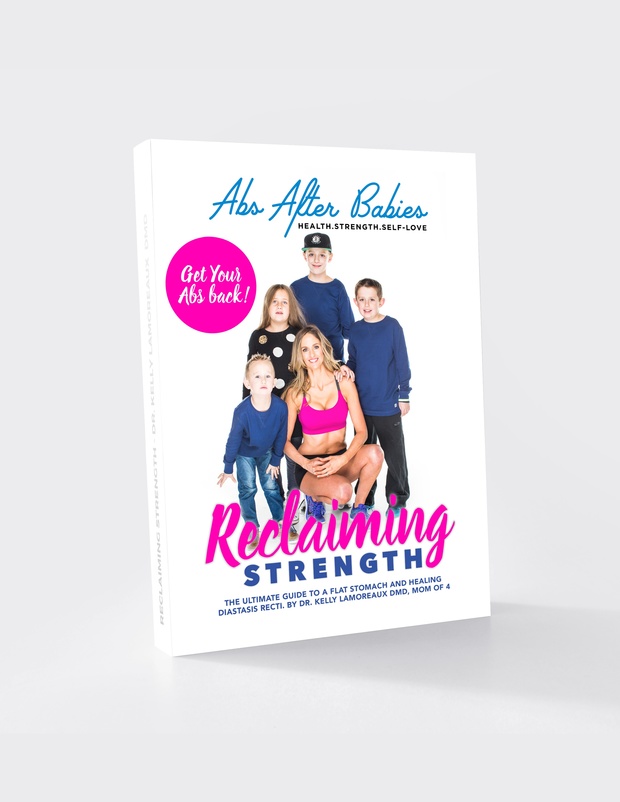 Abs After Babies: Reclaiming Strength Core Program
As a mom of 4 who had all 4 of my babies in a 5 year period, I know just how hard it can be to get your abs back. I suffered from diastasis recti and an umbilical hernia. I also know that I tried so many different ab workouts after my fourth pregnancy and did not have good results.  I was very frustrated. This led me to become a pre and postnatal exercises specialist and to study under two Women's health Physical Therapists so that I could understand how to properly heal and strengthen my core.  I am sharing what I learned and how I improved my own abs with my Reclaiming Strength Core Program.  Most traditional ab programs do not focus on strengthening your inner most core which is key after pregnancy.  My program will teach you the correct exercises to do so that you get the results that you want.

What you get with my Reclaiming Strength Core Program:

-10 week core program (focusing on the abdominals)
-Targets: a weak core, belly pouch, diastasis recti, pelvic floor
-Discusses the science behind a weak core and diastasis recti.
-Discusses how proper body mechanics (posture and everyday movements) impacts your core.
-Includes low impact cardio recommendations and 2 low impact HIIT workouts
-76 pages with photos and descriptions of each exercise.
-Briefly discusses nutrition. 
-Access to the private FB group (Abs After Babies Reclaiming Strength Core Program) with videos, and the ability to ask questions and to be supported by others who are doing the program. After you purchase the program, ask to join the group on FB.
-Specific instructions for the postpartum period. Is safe following c-section or vaginal deliveries.
-The workouts are 10-15 minutes long and are done 6 days a week.
-There are 5 phases to the program.
-Is effective for women who had babies recently or 20 years ago.
-Can be used prior to getting pregnant or during the early stages of pregnancy to help with postpartum recovery. Bounce back fast!
-If you have had a baby this program will help you strengthen your inner most core and also helps women woth Diastasis Recti.
-Your purchase is non-refundable.

Disclaimer: Downloading and/or use of the eBook constitutes consent to the terms of this disclaimer. Always consult your doctor before starting any new workout regimen. Never disregard professional medical advice or delay in seeking it because of something you have read in this eBook. The information contained herein is not intended to be a substitute for professional medical advice, diagnosis or treatment in any manner. Always seek the advice of your physician or other qualified health provider with any questions you may have regarding any medical condition. This eBook does not contain medical advice; its content is for informational and educational purpose only and any use thereof is solely at your own risk. I am not a medical doctor, licensed dietitian, certified personal trainer, licensed nutritionist, or physician. Any information or guidelines provided carry no warranty of any kind, expressed or implied, as advice is given as a recommendation to the client and not intended to diagnose, treat, cure or prevent any health problems. The exercises contained in this eBook, like all exercises, do pose some inherent risk. Take into consideration your individual level of experience and training before attempting any workout described in this eBook. It is recommended that prior to participating in any of my workout programs that you obtain a physician's approval, especially if you just had a baby or have back issues. If you are unsure if you should follow any of the guidelines mentioned within any of the content of this eBook, contact a qualified professional. Workouts are done at the users own risk. Abs After Babies and any associated persons are not liable for any injuries directly or indirectly caused by the use of the exercises and/or programs contained in the eBook.
You'll get 1 file (122.7MB)
More products from Abs After Babies