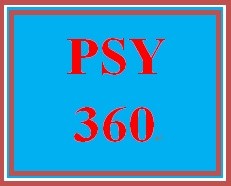 PSY 360 Week 5 One minute paper
PSY 360 Entire Course Link 
https://uopcourses.com/category/psy-360/
PSY 360 Week 5 One minute paper
One Minute Paper
Instructions for week five are the same instructions from week one.
Address
 the following:
A. Review the Weekly Learning Objectives for the week (above). 
B. What is the most important thing you learned during class this week?
C.  What important question remains unanswered?
Format
 your paper consistent with APA guidelines. 
You'll get 1 file (28.8KB)
More products from UopTutorialStore