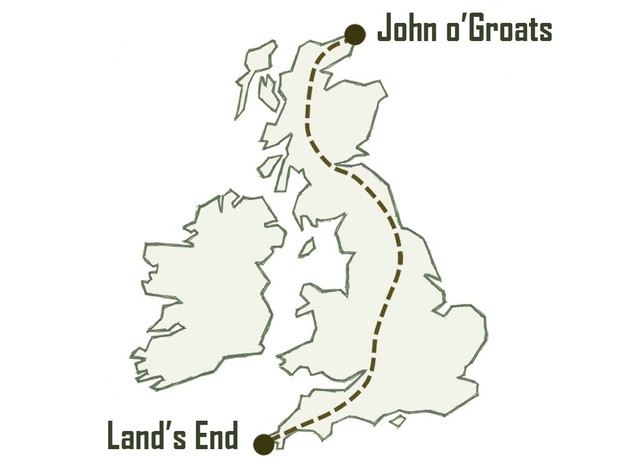 Land's End to John o'Groats cycle route (GPX files)
A complete set of GPX files for a 1,035 mile cycle route from Land's End to John o'Groats. For a full description see:
www.cyclelejog.com/routefiles.html
.
The money raised from these files helps to contribute towards the hosting of the website
www.cyclelejog.com
. These files alone (let alone the rest of the information on the website) represent well over 50 hours of work - save yourself having to do all of this effort yourself for just the cost of a pint of beer! Thankyou!
The download consists of a zip file containing 29 GPX files for each of the following sections:
Section 1: Penzance to Lelant, via Lands End (28.1 miles)
Section 2: Lelant to Perranporth (22.4 miles)
Section 3: Perranporth to Bodmin (29.4 miles)
Section 4: Bodmin to Colacott (30.4 miles)
Section 5: Colacott to Okehampton (24.8 miles)
Section 6: Okehampton to Tiverton (35.4 miles)
Section 7: Tiverton to Bridgwater (37.9 miles)
Section 8: Bridgwater to Bristol (37.9 miles)
Section 9: Bristol to Cheltenham (44.4 miles)
Section 10: Cheltenham to Brandon (near Rugby) (54.9 miles)
Section 11: Brandon to Long Eaton (Nottingham) (44.8 miles)
Section 12: Long Eaton to Austerfield (53.4 miles)
Section 13: Austerfield to Leeds (49.0 miles)
Section 14: Leeds to Thirsk (41.8 miles)
Section 15: Thirsk to Sedgefield (40.2 miles)
Section 16: Sedgefield to Guide Post (42.1 miles)
Section 17: Guide Post to Belford (44.1 miles)
Section 18: Belford to Eyemouth (29.6 miles)
Section 19: Eyemouth to MacMerry (38.7 miles)
Section 20: MacMerry to South Queensferry via Edinburgh (22.8miles)
Section 21: South Queensferry to Perth (34.9 miles)
Section 22: Perth to Pitlochry (32.3 miles)
Section 23: Pitlochry to Newtonmore (42.5 miles)
Section 24: Newtonmore to Carrbridge (21.3 miles)
Section 25: Carrbridge to Inverness (26.6 miles)
Section 26: Inverness to Invergordon (28.1 miles)
Section 27: Invergordon to Brora (33.9 miles)
Section 28: Brora to Lybster (33.4 miles)
Section 29: Lybster to John o'Groats (30.1 miles)
There are a further 3 GPX files too, for an alternative route north of Inverness that avoids the A9 completely:
Alt. section 26: Inverness to Bonar Bridge (41.8 miles)
Alt. section 27: Bonar Bridge to Bettyhill (55.5 miles)
Alt. section 28: Bettyhill to John o'Groats, via dunnett Head (58.5 miles)
You'll get 1 file (406.6KB)