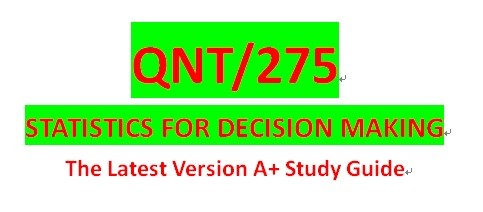 QNT 275 Week 4 Regression Analysis - Learning Activities Required (Participation Responses)
https://uopcourses.com/category/qnt-275/
QNT 275 Week 4 Regression Analysis
Learning Activities Required   
Learning Activities Required    
Linear Regression 
Regression Line Example 
Scatter Diagrams 
Correlation and Causality 
Using Time Series to Analyze
Business Trends 
Successful Forecasting 
Essentials of Business
Statistics, Ch. 1 
Essentials of Business
Statistics, Ch. 3 
Essentials of Business
Statistics, Ch. 12 
Essentials of Business
Statistics, Ch. 13 
Career Connection Discussion:
Forecasting
Career Connection Discussion: Forecasting


Completed
(REQUIRED)


Discussion



3



Objectives:
Discuss
the following:


What
have learned throughout this course with probability and how do you think
that will affect your forecasting decisions in your current or future
company?


How
do you foresee yourself using probability in your current or future
company?


Week 4 Learning Team
Collaboration Discussion: Linear Regression
Resource:
Case Study 12.1
in Chapter 12 of Essentials of Business Statistics.
Access
the Sushi Restaurant data set.
Calculate
the linear
regression in item 1 of the case study.
Discuss
with your team:


Is
simple regression or multiple regression more appropriate for making
predictions in this case? Why?


What
predictions can you make for sales based on unemployment rate and the
level of advertising? What leads you to those predictions?


You'll get 1 file (30.0KB)
More products from UopTutorials