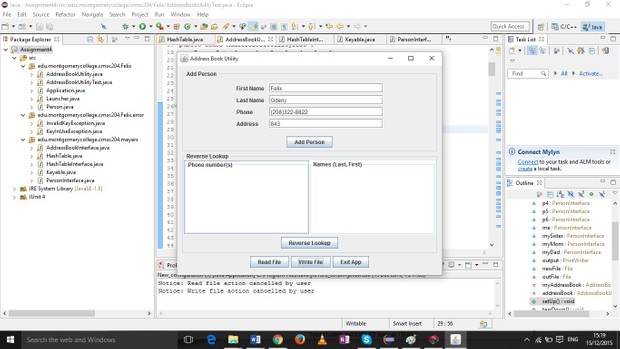 Address Book Utility
 Cmsc 204Classes for this assignment: 
AddressBookUtility  java Class

  The data manager of the application
  Returns if the address book contains a given Person
  Returns if the address book contains a given key
AddressBookUtilityTest java
create an additional address book object and add Person objects that will be different from those above use these in the STUDENT test below
Application java
The entry point/launcher of the application.
Launcher javaPerson java
The primary data element of the application.
InvalidKeyException java
Thrown when a given key is not formatted as (XXX)XXX-XXXX, where X is a digit.
KeyInUseException java
Thrown when a Person being added to the address book has the same phone number as an existing Person.
AddressBookInterface java
Contains methods of the  LookUp Utility.  Data Manager  Data is stored in a hash table Methods for add, contains, isValidKey, reverseLookup, readFile, writeToFile
HashTable java
The data structure of the application
HashTableInterface java
It is implemented as an array of LinkedLists STUDENT -       1.  provide constructor that takes in an int for the number of Person objects to hold       2.  To choose size of your Hash Table (number of buckets):       The first 4K+3 number that is larger than (number of Person objects / 3)
Keyable java
Requires a definition of the key for a particular object
PersonInterface java
Guarantees that Person objects have definitions for hashCode, equals, getKey, getters STUDENT - provide static methods hashKey and isValidKay as described below in class that  implements this interface.
You'll get 1 file (33.6KB)
More products from Engineer_Ankit