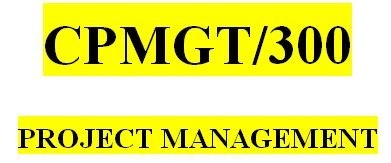 CPMGT 300 Week 3 Scope Statement
**********************************************
CPMGT 300 Entire Course Link
https://uopcourses.com/category/cpmgt-300/
**********************************************
CPMGT 300 Week 3 Scope Statement
InstructionsResource: 
Project Proposal Individual Assignment approved Week 3
Select
 one Learning Team member's Project Proposal
from the Week 2 Individual Assignment.
Create 
a 1,750- to 2,100-word Scope Statement for the proposed
project.
Include
 the following within your statement: 


Description
of your scope


Project
deliverables


Product user
acceptance criteria


Project
boundaries


Project
constraints


Project
assumptions


Determine
 the necessary inputs and the desired outputs
of your proposed project.
Integrate
 both papers expressing the relationship and
relevance of the scope statement within the project management process.
Format
 your papers consistent with APA guidelines. 
You'll get 1 file (27.7KB)