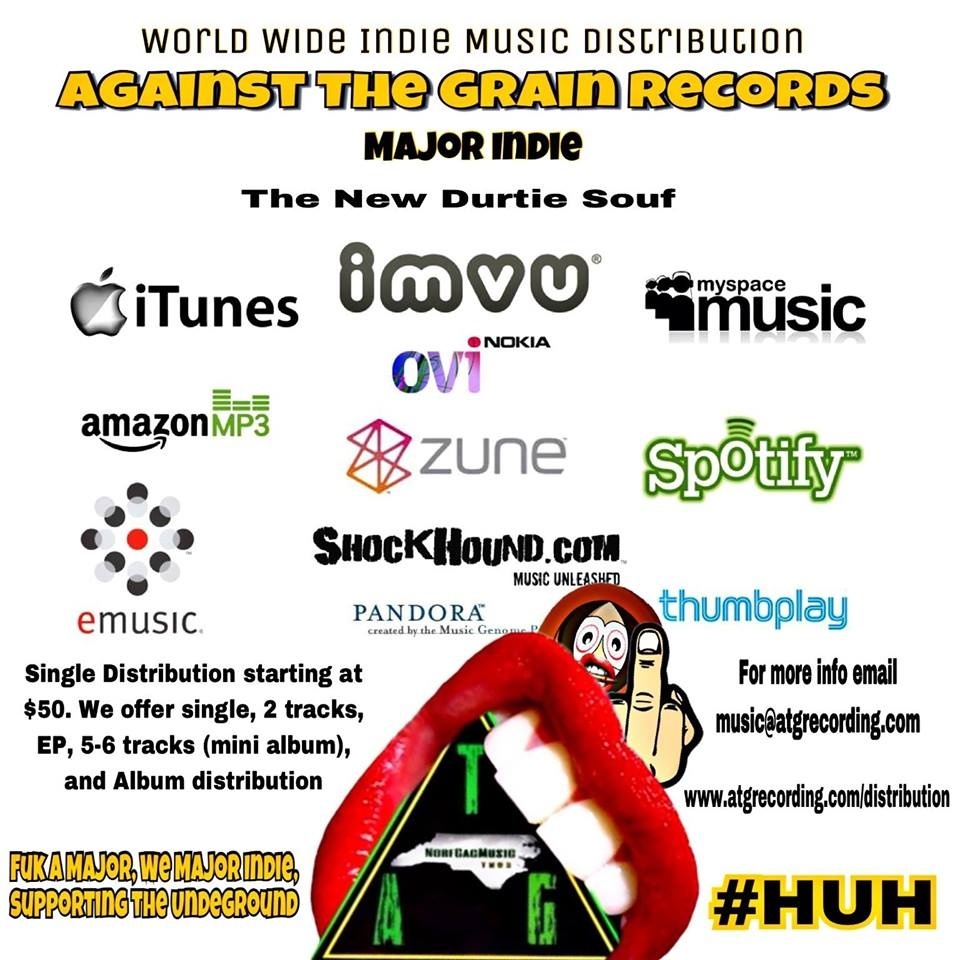 ATG Indie Music World Wide Distribution #MajorIndie
INDIE WORLD!!! Dont pay these majors 2, 3 and 4 hundred dollars just to get your single out to the world!! We can help. Get your single, two tracks, Ep, or Album out to the world via Against The Grain Records, Major Indie Label, starting at just $50! Is fuk a amjor, we support Indie Artists, and we MAJOR INDIE. #Huuh. paymemnt plans are available.
---


OUR PROMOTIONAL PACKAGES ARE TAILORED FOR EACH ARTIST:

Our "phase one" promotion begins with just a low administration cost to have your music released & promoted worldwide!

By using Against The Grain Records YOU will always SAVE Thousands of Dollars !!!!

If you already have a completed "mixed down" Single, EP or Album:

*** We guarantee a Worldwide Distribution deal with AGAINST THE GRAIN RECORDS, within 4 weeks, followed by physical distribution with ATG Records or Independent Distributors (** after positive sales results ).

Our inexpensive Promotional Program includes, once we have your "Single", "E.P." or "Album" released Worldwide, a series of "BLASTS" to countries around the world on Durtie Music Online Radio, and of course to Social Media.

Here's what "Phase-One" also includes:

●  A special Music Industry Press Release of your forthcoming Album, EP, or Single to be released on ATG Records.
●  Arrange for magazine & radio interviews, pending positive sales (** after positive sales ). Build a worldwide buzz for your music with Radio rotation on Durtie Music Online Radio worldwide.
●  Utilize important grassroots elements such as blog site recognition, music website placements, mix-show slots, mix-tape placements and Social Media.
You'll get a 114.3KB .JPG file.
More products from Indie Everythang