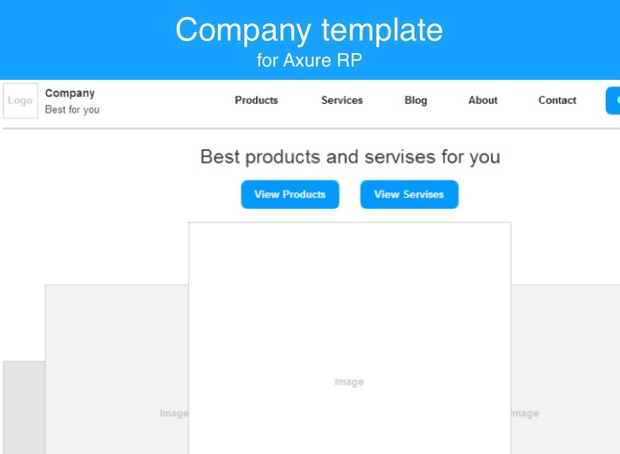 Axure template / Company
Live demo:
http://l6g348.axshare.com/
This template consists of all the pages, which can be used in designing of sites of the company. Moreover, the full form of making orders and blog make it more useful.
TEMPLATE FEACHERS:
Responsive Design
All of the pages and masters of this template are created in 3 resolutions: 990 pixels, 768 pixels and 320 pixels. With a help of updated Axure 7 it became much easier to create and to change adaptive versions of the pages.
Catalogue of products and services
This is the universal catalogue of products and services, whis can be used by plenty of companies, including industrial giants, as well as marketing agencies.
Ordering
Company includes the complete set of functions of odering, coupons and everything which is connected with purchasing of products and services. All that is a pleasant bonus of this template.
Full Blog
Blog with categories, articless, authors and comments is an amazing way for companies to communicate with clients.
Get in Touch form
This form is available from every page of the site and helps to get the feedback from clients without any problems.
Use Cases
Template consists of alternative scripts of user's interaction with the interface. This template consists of both successful and wrong scripts.
Axemplate - Best Axure templates and widget libraries.
With:
- FREE DEMO
- AXURE RP 7 ADAPTED
- RESPONSIVE DESIGN
- ADVANCED DYNAMIC
- MASTERS USAGE
- FREE NEW VERSIONS
Visit our wesite:
http://www.axemplate.com/
You'll get 1 file (1.5MB)
More products from Axemplate