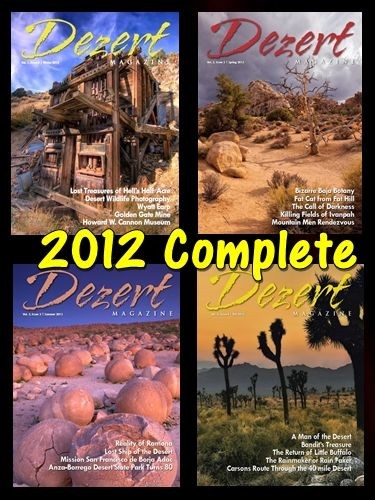 2012 Complete Year ( 4 Issues )
Come along and enjoy the ride as we travel through some of the roughest routes
in the west, Hells Half Acre courtesy of Kathy Weizer from
LegendsofAmerica.com
,
tells us what it was really like to ride on a stagecoach and the robberies
that occurred. Nicholas Cataldo shares his immense knowledge of Wyatt Earp
and his time in San Bernardino California. Dig down to 1800ft and find out
about the Golden Gate Mine courtesy of Barry Swackhamer. Mark Hall-Patton
(from Pawn Stars fame) curator of the Clark County Museum system tells about
the connection between Randall Henderson and the Howard W. Cannon Aviation
Museum. Also learn how to take GREAT desert wildlife photograph from famed
desert photographer Ernie Cowan. We also explore the Goldfield Nevada
Ghost town, and learn about the Tiburcio Vasquez's Great silver heist at Cerro
Gordo.
Travel to the El Marmol Mexico in search of Black Onyx, and did you ever
wonder what it would be like to explore a desert gold mine?? Then " Call of
Darkness " is a must read, travel along with Joanne Lighthart and her crew of
spelunkers as they climb down deep into the earth!!! Learn about the Mexican
native plant life with Dr. Jon Rebman of the San Diego Natural History Museum,
explore the hot springs at North Glamis California. Visit one of California's
GREAT state parks as they celebrate their 80th anniversary, with articles from
Diana Lindsay, Ernie Cowan and ranger Steve Bier. Discover why this park is
beloved by so many people and seen it's hidden beauty. Discover the history
and adventure of California's largest state park.
Follow along as Bill Pfost takes you on one of the most enduring stories of
the southwest, the legend of the Lost Ship of the Desert. Ever wonder what
hardships and turmoil the minorities of the 1800′s faced? Find out with author
Lori Gonzales in The Reality Behind Ramona. Travel south of the border to the
magnificent beauty of the Mission San Francisco de Borja Adac in Baja.Take a
trip to the Ruth Mine with our new Associate Editor James Mattern ( aka Death
Valley Jim )… All of these stories AND!!! Enjoy the stunning beauty ofJoshua Tree National Park,
and find out What happened to the Catalina Buffalo, and the Rainmaker of
San Diego. Explore Carson's Route Through the 40 Mile Desert. And find out
aboutn the Life of Randall Henderson ( by Phil Brigandi ), Bandit's Treasure,
Gold and Silver of the Mojave ( a book excerpt ) plus follow along
with our very own Death Valley Jim to the ghost town of Skidoo California.
You'll get 1 file (166.7MB)
More products from Dezert Magazine