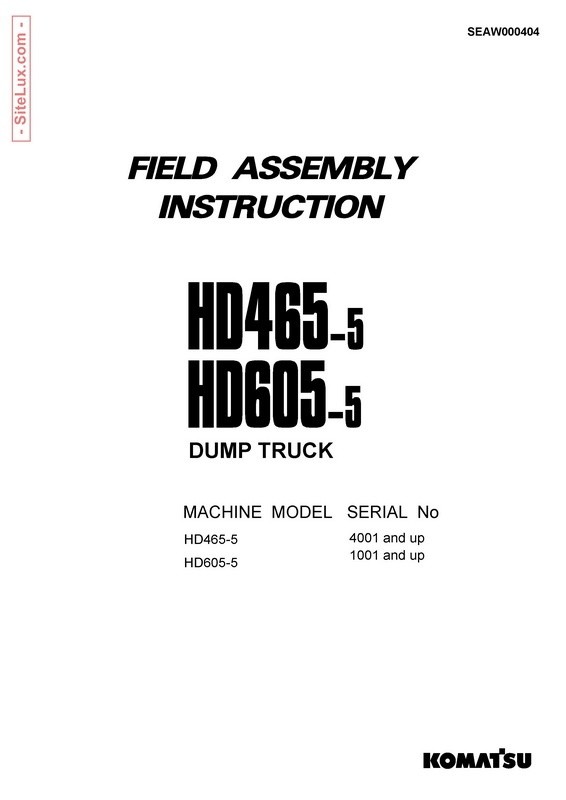 Komatsu HD465-5, HD605-5 Dump Truck Field Assembly Instruction - SEAW000404
This is a COMPLETE Field Assembly Manual for the Komatsu HD465-5 & HD605-5 Dump Truck, provides you with everything you need to know in order to assembly your Komatsu safely and effectively. Step-by-step assembly procedure, parts installation, adjustment and maintenance procedure after completion of assembly.
APPLICABLE MODELS :
Komatsu HD465-5 Dump Truck
Serial Numbers : 4001 and up
Komatsu HD605-5 Dump Truck
Serial Numbers :1001 and up
TABLE OF CONTENTS :
LIST OF JIGS AND WEAR PARTS FOR LOCAL ASSEMBLY
TOUCH-UP PAINT LIST FOR DUMP BODY
SKETCHES OF SPECIAL TOOLS
MAN-HOURS, WORKERS NEEDED FOR LOCAL ASSEMBLY
PROCEDURE FOR FIELD ASSEMBLY
1. Lifting and lowering rear axle assembly
2. Lifting chassis assembly
3. Installing chassis to rear axle
4. Installing rear axle
5. Installing rear suspension
6. Setting stand on front side
7. Connecting parking brake and brake hoses
8. Connecting brake cooling hoses
9. Installing front axle (1)
10. Installing front axle (2)
11. Installing front axle and steering cylinder tie rod
12. Installing fuel tank
13. Installing front and rear supports
14. Installing fender
15. Installing tire assembly
16. Installing right-hand platform
17. Installing air intake tube
18. Fitting radiator subtank piping and connecting grounding wires
19. Connecting wires under right-hand platform
20. Installing drive shaft
21. Installing exhaust tube
22. Installing side guard of cabin
23. Installing ROPS guard
24. Installing catwalk guard mirror
25. Installing hoist cylinder greasing piping
26. Removing blind flange from hoist cylinder
27. Checking oil and water
28. Bleeding air from front and rear brakes
29. Installing spill guard and guards
30. Installing dump body
31. Adjusting dump body bottom mount
32. Installing dump body accessories
33. Adjusting dump body positioner
34. Installing the protective cover for field welding
35. Field welding (Dump body lock)
36. Field welding (Exhaust flange)
37. Field welding (Dump body front mount and stopper pin bracket)
38. Painting
PROCEDURE FOR WELDING AND ASSEMBLING THREE SEPARATED BODY PARTS
APPENDIX
FIELD ASSEMBLY INSPECTION REPORT
MANUAL SPECIFICATION :
File Format : PDF
Language : English
Printable : Yes
Searchable : Yes
Bookmarked : Yes
Product Code : SEAW000404
Total Pages : 125
This page sometime can be found use following keyword : service manual, repair manual, workshop manual, technical manual, owner manual, operating manual, maintenance manual, parts manual. Please make sure you read and understand the title of this manual before decided to buy.
More Info :
https://www.sitelux.com
You'll get 1 file (4.7MB)