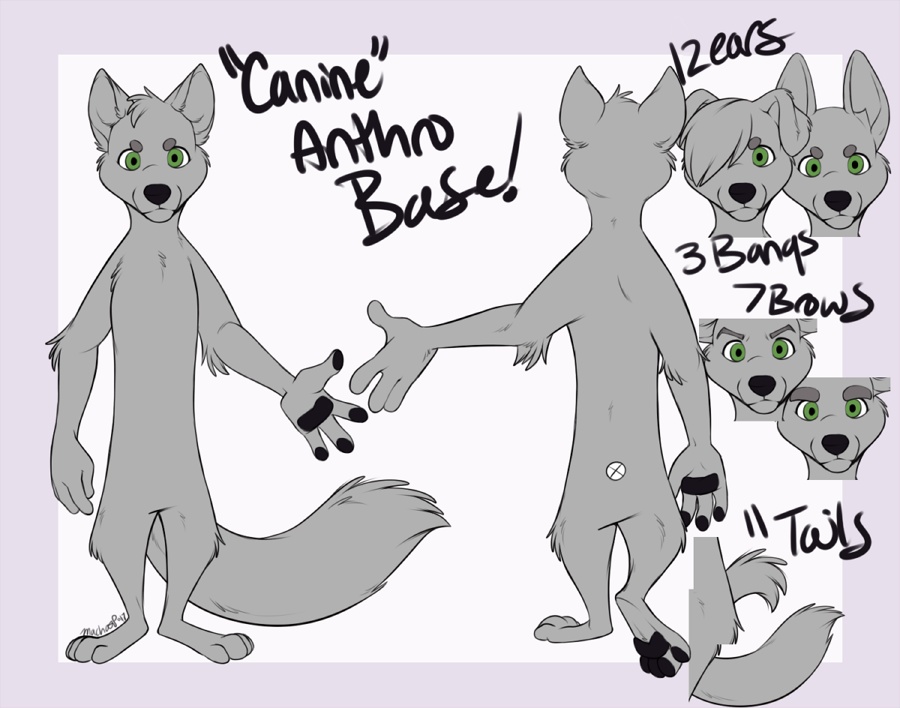 Canine Anthro Base
1289x1180 (100DPI), comes with both .PSD & .SAI files of the base. You will need a program that can open PSD or SAI files! 
Comes with: 
3 Hair Fringes:
Emo, Cub, and Fluff.
7 Brows:
Thin, Normal, Thick, Angry, Shaggy, Shiba, and Husky.
12 Ears:
Fennec Fox, Ferret, Hyena, Toony Hyena, Tanuki, Saluki, German Shepherd, Aussie, Labrador, Cropped (pitbull style), and 2 different Wolf ears.
11 Tails:
Wolf, Fox, Ferret, Meerkat, Hyena, Red Panda, Saluki, Husky/Shiba, Westie, Hound, and Mutt. 
Everything is well organized and should be very easy to color in. If you do plan on using this to sell your own adoptables, I'd certainly appreciate an extra tip if possible!
Please read the rules below and have fun designing new furry characters!
---
RULES!


Do not resell the base as-is; only adoptable designs you colored.


You are allowed to make your own characters, gifts or adoptables (even for selling for real currency, go nuts!) 


You are allowed to edit this base as you please to suit your designs. Can be SFW or NSFW, can crop to make an icon of your design, etc etc.


You are welcome to share this with your friends freely, but NOT with the general public/the entire internet.


Please do not claim you drew the lines/other obvious 'do not steal' rules.


I do not give refunds, but if you have any strange problems with the sai file glitching or something, feel free to contact me (machati on DeviantART, machati_sama on Twitter are where I respond the fastest) 


You'll get a 7.1MB .ZIP file.
More products from Machati Selling Art Things!