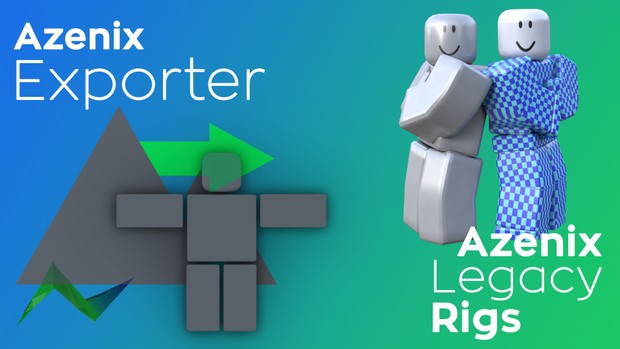 Azenix Exporter + Legacy Rigs
PLEASE LOGIN TO A SELLFY ACCOUNT BEFORE BUYING SO YOU CAN REDOWNLOAD LATER.
---
If you buy this please join the discord server: 
https://discord.gg/pSESTrc
All of the items available in this product are included for free in both in Azenix Premier Rig (https://sellfy.com/p/GPox/) and Azenix Mega Pak (https://sellfy.com/p/0uLR/)
---
Azenix Exporter Features: 
https://www.youtube.com/watch?v=S9fWEL9NAl0


 Most people spend 5 to 10 minutes for every piece of art they make just exporting characters and maps from roblox and importing them into 3D software like Cinema 4d and Blender. This is a highly unessecary process.




After being annoyed of this I created a streamlined solution. Just install the plugin once and it will do everything for you. Just enter a username, choose whether you want packages and/or R15 and export. No need to align the character, rotate them or play in test mode.




The exporter also features a map exporter (disclaimer: can not rip maps from games), that makes it easier to recreate scenes with accurate colors, textures and lighting.




If you buy this you will get access to the customer section of the discord which includes beta versions of the exporter. One feature currently in beta is the character studio, which allows you to build a character from scratch using any items from the catalog.




All of these features aren't available in any other exporter, which are harder to use, and cost you more ₜᵢₘₑ than the Azenix Exporter available for the low cost of only 10 dimes with the added bonus of the Azenix Legacy Rigs.


---
R15 and Legacy rig features
: 
https://www.youtube.com/watch?v=6laynWm-nZI


Note: these rigs have been replaced by the Azenix Premier Rig (https://sellfy.com/p/GPox/) and will not recieve updates.




The R15 and Legacy rigs were both the first of their kind. The R15 was the First R15 rig (and still the only public one). The Legacy rig was the first rig designed for GFX instead of animation.




Stop spending 5 minutes rerigging everytime you need to render something. Aren't you tired of Drawing bones, subdividing, binding, etc everytime you want to add a character? With the Azenix Legacy Rig you never have to do that again, and you can import a character in under 30 seconds, just swap the textures, and import hats. Once you use it you don't go back.




Stop spending 10 seconds everytime you want to select a bone. With visual selectors for the bones the Legacy rig was the first of its kind to offer a easier solution.




Enjoy the many advanced features such as rig size and facerig compatability. All of these features aren't available in bone rigs, which are harder to use. It also costs you less ₜᵢₘₑ than other rigs. Get it now for the low cost of only 10 dimes, with the added bonus of the Azenix Exporter.




If that isn't enough for you to go ahead and buy it, then check this out. Kidveggito uses it to pose his characters! You can see him use it here, youtu.be/hqh9RTpdww4 (Note: He now uses my Premier rig)


---
Additional notes
:


Current Azenix Exporter Version on Sellfy is 0.6.0


Legacy and R15 rigs are included as the legacy rigs.


Azenix Exporter works with any 3D software supporting .obj files.


The Azenix Premier Rig, Legacy Rig, R15 Rig and Azenix Shaders are only compatiable with Cinema 4d.


A basic exporter will be made free at 100 subscribers, and the Legacy rig at 500 subscribers on my main youtube channel: https://www.youtube.com/channel/UCeyUl4ys1GIACBCv3H-zW_w


You'll get 1 file (1.5MB)
More products from Azenix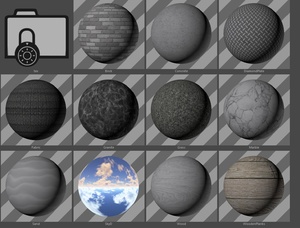 FREE