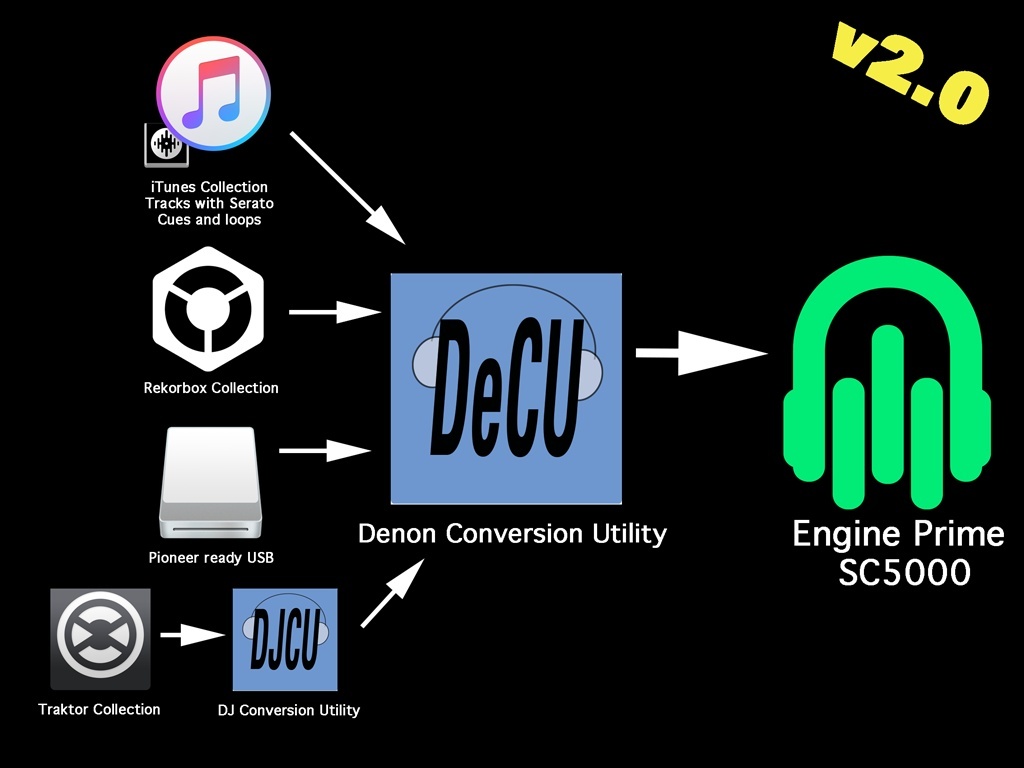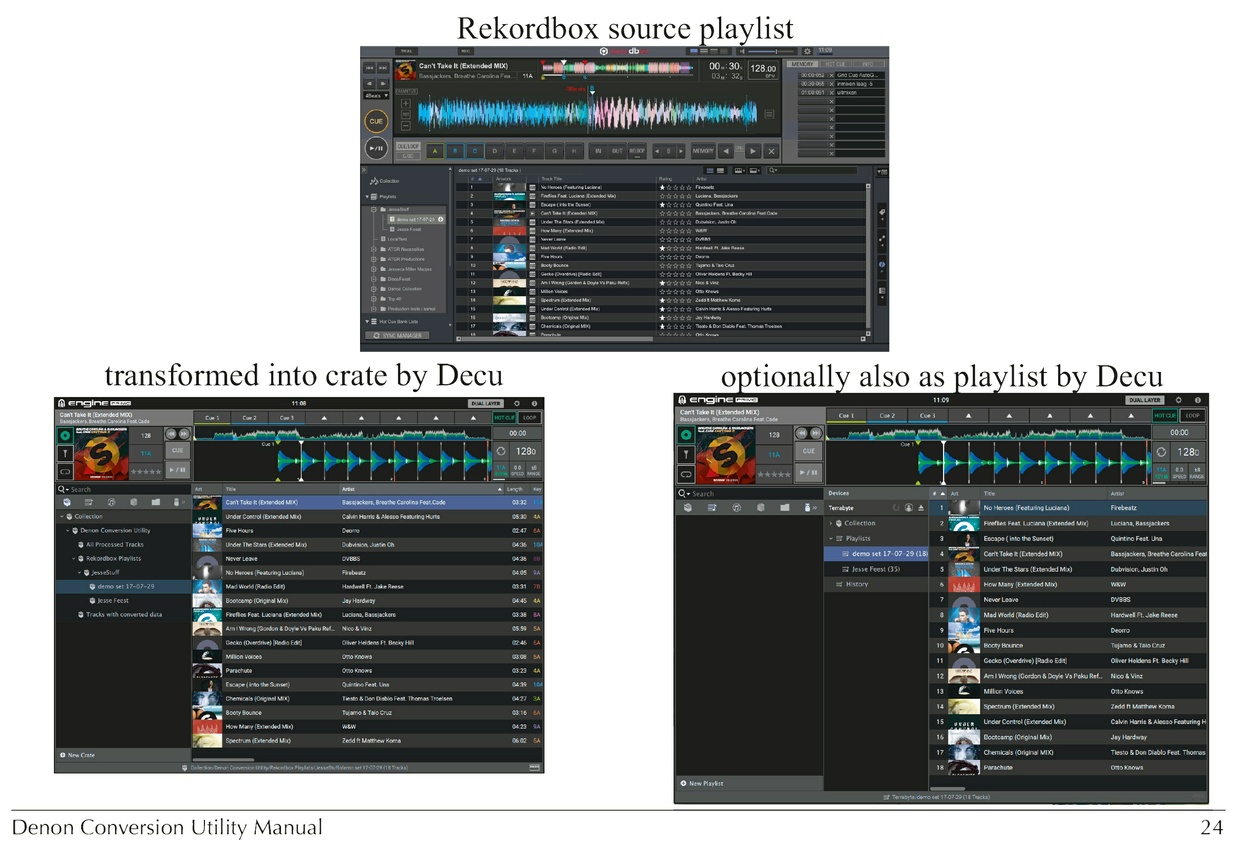 Denon Conversion Utility (DeCU) from Pioneer's Rekordbox to Denon's Engine Prime
Fully compatible with Rekordbox 5!
Current version 2.3 as of October 15th 2017.
Users of 1.X contact me using the email address used in the original purchase to receive the download link.
The Denon Conversion Utility (DeCU). Converting all cues, loops and playlists from Pioneer's Rekordbox and Apple's iTunes to Denon's Prime platform.
DeCU can use 3 different rouadmaps or sources as a base for it's operations


Rekordbox prepared USB thumb drive


Rekordbox collection 


iTunes collection


iTunes does not support any cues and loops, these need to be present in the track's tags as Serato cues and loops.
A Rekordbox prepared USB thumbdrive as a source



That USB remains fully compatible with Pioneer gear and software


Cues and loops will be converted to Engine Prime


There will be no duplicate tracks files on that usb. Engine Prime/the SC5000 will use the same tracks as Pioneer does.


The converted data and tracks will not become part of the host Mac's Engine Prime collection.


The conversion translated folders and playlists into Primes nested crates.


The USB becomes fully searchable on the SC5000.


No longer has the 3 hotcue limitation.


See the conversion in action at:
https://youtu.be/8uSF2Ox0yMk
An Rekordbox.xml or iTunes.xml as a source


DeCU will not interferer with any existing cues/loops in Rekordbox, they remain 100% where they are. For Serato cues/loops users got the option to overwrite them with Rekordbox converted data or leave them protected. 


All playlist and folders are translated to crates in Engine Prime maintaining their nesting structure.


Optionally you can convert playlists to Engine Prime playlists which keeps the track order as it is in the Rekordbox/iTunes playlist.


If you use colors for your cues in Rekordbox DeCU will give the converted cues the closest available color in Engine Prime.


The Conversion can be run partially and as often as you like. DeCU will make sure there are no unintended duplicate tracks in your collection.


If you don't need the cues and loops you've set in Rekordbox on the Denon platform then processing time is amazingly fast.


Before writing to your Engine Prime collection DeCU will automatically create a backup if the previous backup is older then 24hrs. 


At this moment DeCU is your
only option
to get fully structured playlists inside Engine Prime. And it's the only option to have playlists with tracks in the exact same order as they have in Rekordbox. It provides a great alternative to the iTunes integration of Engine Prime. I strongly recommend you take your playlists from iTunes to Rekordbox (using Rekordbox's sync manager) and then convert them from Rekordbox to Engine Prime using the Denon Conversion Utility.
The 
iTunes Rekrodbox Backup Tool
is
bundled for free
with the full version of the Denon Conversion Utility (not the trial). 
fully automated backup & conversion of your Rekordbox collection
The Collection Backup Tool and the Denon Conversion Utility are now completely integrated. Keeping your Denon Prime collection in sync with your Pioneer Rekordbox collection is now fully automated. You don't need to remember which tracks in what playlists were added or modified. The RTBT/DeCU combo will do this for you.
The procedure is described in the manual under the chapter "Denon" disk. And there are 2 video tutorials showing you the procedure.
The initial run is shown at
https://youtu.be/xhuuY_iiqAA
and how you maintain your collection is shown at
https://youtu.be/EZadqF_1PQY
this is truly next level #ChangeYourRider #KeepYourWorkflow
Conversion from Traktor:
Anywhere in this article where it reads "Rekordbox.XML" this could also be translated to "the Rekordbox.XML DJCU generated out of a Traktor collection". This means that both CBT and DeCU can use DJCU converted Traktor output as input! There is no need to go through Rekordbox at all.
Windows users read on! I have a solution for you.
The link to the Free trial is at the end of this text.
Dj'ing in the year 2017
The Denon Prime platform allows the disk that stores your collection's data and tracks to be the same disk you connect to the SC5000 player. Making the syncing of USB sticks a thing of the past. Hooking up a laptop to deliver tracks to the players is not support by the current version of Engine Prime, but that is also completely obsolete.
Following our "Denon" disk procedure you can use your collection on the SC5000 and with Engine Prime installed on other computers and even on different operating systems.
I set my cues and loops in Serato or I use Rekordbuddy. What extra will the Denon Conversion Utility add to that workflow?
Safety and consistency:
Dragging and dropping a track with cues and loops only works for tracks that are new to the Engine Prime collection, it can not be used to deliver modified cues and loops for tracks that are already part of your EP collection. DeCU consistently delivers cues and loops to EP's tracks whether they are already part of the collection or not.
Even more important:

Pressing the "update Serato Library" button in EP will wipe out all cues and loops you've edited in Engine Prime for those tracks that are part of both your EP and Serato collection.
DeCU only alters those tracks which are part of the playlists you've selected.
Any other tracks in your EP collection and their cues and loops remain unaffected by DeCU.
I explain and demonstrate both phenomena's at
https://youtu.be/Z22F-ioVL9M
Preserve playlist/folder structures: 
If you want to maintain your carefully curated folder/playlist structure from either iTunes or Rekordbox without having to reconstruct them in EP from scratch then DeCU is you only option to automate this for you.
If you are not on Rekordbox but you are using iTunes as your collection manager then you'll need the free preparation license of Rekordbox and use Rekordbox's excellent iTunes bridge to get your folders and playlists from iTunes to Rekordbox.
I use Traktor to set my cues and loops Will DeCU give me any benefits?
So do I. That's why I've developed the DJ Conversion Utility (DJCU)
https://sellfy.com/p/emUY/
DJCU converts Traktor folder/playlist structures, cues and loops to Rekordbox. It's the #1 app for Traktor to Rekordbox conversion and only costs US$ 6,95!
You can take the output DJCU creates (a Rekordbox.xml file) as input for DeCU saving you the whole Rekordbox import and export collection step.
The video tutorial where I show how DJCU, RTBT and DeCU work together to go from Traktor to Denon Prime with virtually no human intervention is at:
https://youtu.be/_NI87HMNt44
Known limitations


Shifts of cues and loops can happen. This has nothing to do with DeCU. The same shifts will happen for Serato users that directly convert to Prime with DeCU. It'sexplained in great detail in the manual.

Using Traktor as source with the aid of the DJ Conversion Utility and DeCU results in 100% correct placements of cues and loops.


Download the manual:

Not only does it contain step by step instructions about the DeCU procedures, it also provides numerous tips and background info for non DeCU and even windows users on all things Denon Prime.
https://www.dropbox.com/s/1wvnhtt5tbvpezs/DeCU%20manual.pdf?dl=1

I've created two Youtube video playlists.
Both video playlists are actively maintained. I'll edit or add videos to them on a need to base. 
Stay informed about all things DeCU, subscribe to my YouTube channel.
If you think the video's are helpfull then I appreciate a thumbs up. If you think there are subjects about either DeCU or Engine prime that are not entirely clear, feel free to contact me.
DeCU 1.x has a free trial version. 
It is limited to 1 playlist or 10 tracks max per run. This trial also includes the manual and the other bundled utilities.
download it at:
The trial is only availble as version 1.X. Version 2.0 does not have a trial version.
https://www.dropbox.com/s/i1yihvd8kzdd9mj/Denon%20Conversion%20Utility%20Trial%201.851.zip?dl=1
The catalog of our DJ apps:
https://www.dropbox.com/s/0gl2jrw5cjfl5q4/Product%20flyers.pdf?dl=1
Follow the DeCU page on Facebook to stay up to date about the latest developments
http://fb.me/DenonConversionUtility
So you are on Windows?

You'll need the following:


A copy of the Denon Conversion Utility (DeCU)


External hard drive/ssd/thumb drive 


Someone willing to let you use his/her's Mac. It's ok if that Mac got it's own Engine Prime collection. All of the procedure's actions are restricted to the external disk and will not interfere with existing data.


Engine Prime (EP) installed on that Mac during the procedure


I show the procedure at:
https://youtu.be/FNVwIaSI6jY
And it's described in detail in the manual.
After following this procedure that drive will have all your cues, loops and playlists in Engine Prime identical to how they are in your (Windows!) version of Rekordbox.
That drive can be used with Engine Prime on both MacOS and Windows. It can also be plugged directly into a SC5000 and will have the playlists cues etc.
You'll get a 28.8MB .ZIP file.
More products from And The Groove Remains Production Team