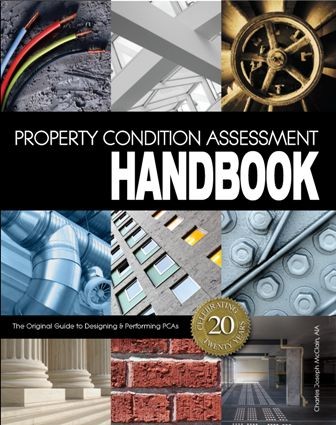 Property Condition Assessment Handbook - Digital Edition
The Original Guide to Designing & Performing PCAs - Updated 20th Anniversary Digital Edition

Originally published in the early 1990s as the first book dedicated to the systematic evaluation of building systems, this handbook is designed to assist real estate investors, property owners and building professionals in establishing engineering assessment programs in order to make informed investment decisions and/or determine the financial and operational viability of properties.

This 20th Anniversary Edition has been updated with hundreds of new component photographs, industry references, "red flag" commentary, evaluation forms to use as templates and updated building evaluation techniques.

This hands-on guide establishes how to strategically evaluate all the major systems of a property including the following:

* Site components and amenities
* Structural systems and seismic risk assessments
* Building envelope
* Roofing systems
* Mechanical / HVAC systems
* Plumbing systems
* Electrical systems
* Vertical transportation systems
* Fire/life safety systems
* ADA and FHAA disabled accessibility compliance
* Interior finishes and equipment
* Environmental issues

Learn how to conduct a facility assessment from the ground up -- literally! This book includes all of the information needed to understand the process of property condition assessments, and will show you how to design, manage and conduct your own assessments.

The book details the organization and management of comprehensive property condition assessments as well as detailed evaluations of specific facility systems, handicap compliance and seismic risk assessments. Divided into three primary sections including:

Section I - Designing An Evaluation focuses on the benefits of evaluations, the role of evaluations in property transactions, determining the assessment scope and conducting the evaluation.

Section II - Evaluating Building Systems focuses on descriptions of system components, typical system deficiencies and explanations of systems diagnostics.

Section III - Documentation & Resources focuses on the review of documentation, design of the evaluation report and assembling the assessment team. Detailed supplemental information is provided including comprehensive sample field checklists, questionnaires, listing of diagnostic tools and a extensive directory of information sources and websites.
You'll get 1 file (22.7MB)
More products from Katie McClain