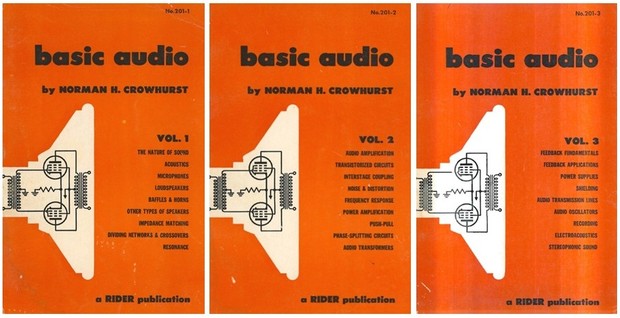 BASIC AUDIO Vol. 1-3 - Intro to Tube Hi-Fi - Crowhurst, 1959
"
BASIC AUDIO – Volumes 1, 2, & 3"
 by Norman Crowhurst (1959).
This is a 3-volume set on, as the title implies, basic audio.  The best introduction to tube hi-fi I've seen, Volume 1 (114 pages) starts with the nature of sound, and covers the basics of speakers and microphones.  Volume 2 (122 pages) continues with amplification, covering the basics of amplifier design.  Volume 3 (113 pages) covers a little more advanced topics like feedback, power supplies, and recording.  If you're a beginner,
READ THESE BOOKS!TABLE OF CONTENTS
Volume 1
Introduction
The Nature of Sound
Acoustics
Microphones
Loudspeakers
Baffles
Horns
Other Types of Speakers
Impedance Matching
Dividing Networks and Crossovers
Resonance
Audio Response Curves
Volume 2
Electronic Amplification
A-C Measurements
Circuit Values
Amplifier Arrangements
Transistors
Interstage Coupling
Noise
Distortion Effects
Use of the Oscilloscope
Frequency Response
Power Amplification
Phase-Splitting Circuits
Audio Transformers
Distortion
Volume 3
Feedback Fundamentals
Feedback
Feedback Applications
Controls
Plate
Voltage Supply
Grid Bias Supply
Screen Bias Supply
Filament or Heater Supply
Transformerless Power Supply
Shielding   
Audio Transmission Lines
Transient Effects
The Audio Amplifier
Audio Oscillators
Recording
Electro-Acoustics
Audio and Hearing
The original books were scanned and converted into these digital books in Adobe Acrobat .pdf format.  In order to view these files you will need to have Adobe Acrobat Reader installed on your computer.
You'll get 1 file (10.8MB)
More products from West Coast ePub Depot