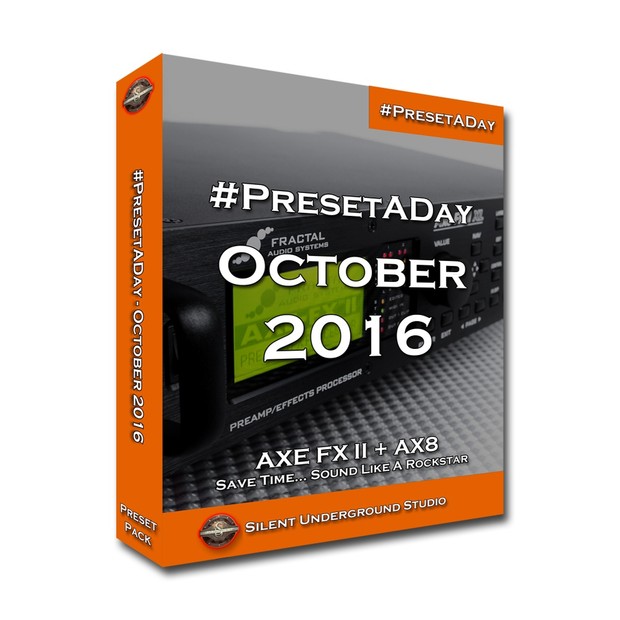 #PresetADay - OCTOBER 2016 (FAS)
All 30 Days of October #PresetADay presets + 10 previously unreleased !!Hear the demos HERE:
https://goo.gl/LoiZr4
Set up for:
Direct to DAW, Studio monitors, FRFR, Direct to FOH use
Firmware:
Quantum 9 or higher.
Model:
AXE FX II, AXE FX II XL, AXE FX II XL+, AX8
Cabinet IRs:
Uses a custom Cabinet IR - Included
Scene Switching:
4 scenes to switch between Clean, Crunch, Rhythm and Lead
Presets Include:
Wrecker Rocket
Wrecker Lvrpool
Wrecker Express
Vibrato Verb
Vibrato verb CS
Vibrato Verb AB
Vibrato Verb AA
Vibrato Lux
Vibra-King Fat
Vibra King
USA Sub Blues
USA Rhythm
USA Pre LD2 Yellow
USA Pre LD2 Green
USA Pre LD2 Red
USA Pre LD1 Red
USA Lead +
USA Lead
USA Lead Brt +
USA Lead Brt
USA IIC++
USA IIC+
USA IIC+ Deep
USA IIC+ BrtDp
USA IIC+ Bright
TX Star Lead
Two Stone J35 2
Two Stone J35 1
Tremelo Lux
Tordendal Modern
Thordendal Vintage
Supremo Trem
Supertweed
Superverb Vib
Super Verb Nrm
Suhr Badger 30
Suhr Badger 18
Spawn Rod OD2-3
1987X Jump
1959SLP Jump
Please Note:

All October presets require our custom #PresetADay Cabinet IR Included for FREE. The cab is the same for each preset.
The Cabinet IR is a custom blend of a Marshall 1960B loaded with Celestion Vintage 30 and GT75 speakers. Both speakers mic'd with a Shure SM57 and a Sennheiser MD421.
All October #PresetADay presets using 'Scene Switching' to change amp tones through Clean, Overdrive, Rhythm and Lead.
Scene 1 = Clean
Scene 2 = Overdrive
Scene 3 = Rhythm
Scene 4 = Lead
Disclaimer:

Please first know HOW to use your hardware / software BEFORE purchasing our products. They are made to work in any standard AXE FX II / AX8 setup without the need for additional external processing. No refunds are given on digital products.
You'll get 1 file (1.3MB)
More products from Silent Underground Studio