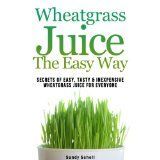 Wheatgrass Juice The Easy Way
Considered by many to be a superfood on par with spirulina and green smoothies, wheatgrass juice can provide profound health benefits for everyone who desires more energy and optimum health.

With the depleted state of the soil in which much of our food is grown these days, growing and juicing your own wheatgrass juice at home is a simple, tasty, and inexpensive way to improve and safeguard your health.

In Wheatgrass Juice The Easy Way: Secrets Of Easy, Tasty, & Inexpensive Wheatgrass Juice For Everyone, Sandy guides the reader through the world of wheatgrass.

In this concise, step-by-step guide, Sandy illustrates the myriad health benefits of adding wheatgrass juice to one' s diet, and she walks the reader through simple, inexpensive techniques of growing and juicing wheatgrass at home.

From seed, to sprouts, to harvest, even those who are new to growing anything will find this step-by-step guide easy to follow. Those with minimal space, or who have a short growing season, will find this guide concise and easy to follow.

Wheatgrass growing and juicing can be simple, inexpensive, and very rewarding to one's health and energy levels.

You'll get a 359.9KB .PDF file.