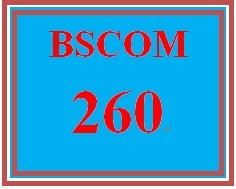 BSCOM 260 Week 2 Intercultural Considerations in Technical Communication
BSCOM 260 Entire Course Link
https://uopcourses.com/category/bscom-260/
BSCOM 260 Week 2 Intercultural
Considerations in Technical Communication
Respond 
to
the following scenario:
You
are working in a corporation with a team whose members are located in various
locations: China, the United States, and India.
Write
 a
350- to 700-word e-mail to your team that discusses one or two tools the team
could use to communicate such as those discussed on p. 87 (Ch. 5) of 
Technical Communication
.
Write the memo with professional style and tone and consider your audience
which includes international coworkers.
Write
 a
brief 200- to 350-word summary after completing your e-mail that describes why
intercultural communication competence in the workplace is important. Describe
how you approached the tone, style, language, and subject of your e-mail based
on the guidelines on p. 101 (Ch. 5) of 
Technical
Communication
.
Submit 
your
e-mail and summary to your instructor.
You'll get 1 file (17.6KB)