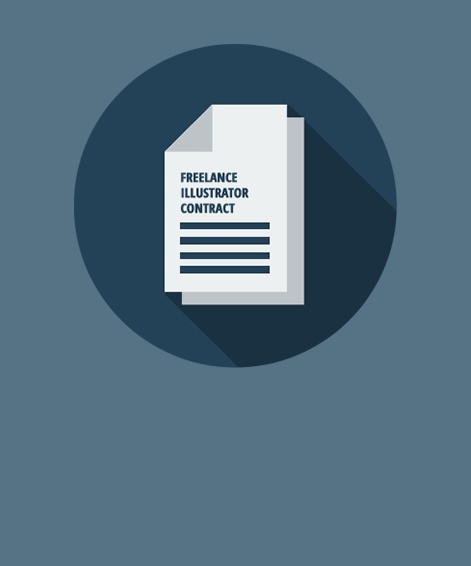 Freelance Illustrator Contract Template
Together with our friends from TheContractGuys we bring you a series of attorney-drafted contract templates for creative freelancers!

With our easy fill-in-the-blanks contract, we'll give you the peace of mind you need so that we can free up your time to work on what you do best – the creative process of being a Freelance Illustrator.

Here's what you get with the Freelance Illustrator Contract:

• Built-In Delays Defined - Don't be blamed for late work or missed deadlines. We've included a provision so that when your client hasn't provided you with all your requested information – you aren't dinged for it.

• Acceptance Period Defined - Have you ever been surprised when six months after you've completed a client project he/she wants revisions? For free? We define a time period that the client has to decide if they accept your work or not after submission. This ensures you get paid for any work requested after the acceptance period.

• Who Owns Your Work? - We help you define who owns your work – you or your client. If you decide you want to keep the rights to your illustrations we designed a clause for that too.

• Get the Credit You Deserve - We give you the option to either release all rights to your illustrations, or, be more definitive of rights of use - specific number of illustrations to be used, medium allowed, geographical area, time period, and number of uses – that way you get paid for all uses of your work.

...And much more. We basically cover everything you need in your work as a Freelance Illustrator.

Save yourself thousands in legal fees and buy our Freelance Illustration Contract Template now!
You'll get 1 file (31.1KB)
More products from Flat Designs