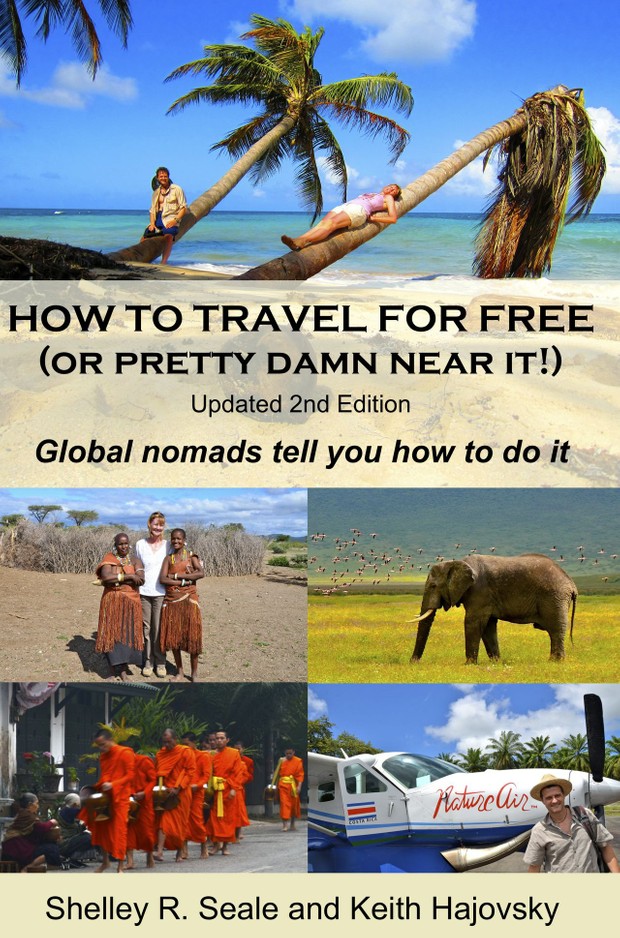 How to Travel for Free (or pretty damn near it!)
Are you tired of the conventional wisdom which says that you have to spend a lot of money to travel the world? Do you want to learn how two well-traveled vagabonds have managed to do it for decades, as well as the travel-cheap insights they have accumulated over many years of gallivanting the globe?

There are many travel resources and guidebooks out there that tell you how to travel on the cheap, how to save money, how to get the best airfares. We have read and used many of them, and there are lots of good ones around. How To Travel For Free (or pretty damn near it!) is different in that in these pages, we share our own personal resources and experiences to show ways in which you can travel not just cheaply, but for free – or damn close to it.

In November 2013 we released a brand new, Updated 2nd Edition to the book! With more than 30 pages of completely new information – like credit card churning, camping when you travel and crowd-funding your travels – we've also updated and added to the entire book, with lots of new resources, methods and tips that we've discovered and used for traveling for free.

Whether you are planning a weekend getaway or a round-the-world journey, we let you in on our secrets for how to:

* Stay in a fully-furnished house or apartment in locations around the world, for days or weeks at a time, absolutely free.

* Utilize airlines' frequent flyer programs to the maximum advantage, to earn free tickets very quickly, for domestic and international travel.

* Uncover more unconventional and local means of travel in different countries, that will allow you to travel far more cheaply than conventional methods.

* Find the best, most reputable, and often difficult-to-locate opportunities for working and volunteering your way around the world.

* Learn to access the many hospitality and travel exchange programs that allow you to not only visit international locations cheaply or for free, but to interact and make friends with people in a true cultural exchange.

* Get creative about the endless ways you can travel for free, from bartering, reviewing products or caretaking to combining job training or educational opportunities with personal travel.

While we won't claim to have traveled the entire world – the more we travel the longer our list of destinations grows – between the two of us we have traveled extensively throughout our little planet over the past two decades, and over that time we have both discovered that you don't have to spend a lot of money to see the world. In fact, we often travel to exotic places for very, very close to free. And the more we've traveled, the less we've spent.

People ask both of us, all the time, how do we do it? They are admiring, envious, impressed and mystified. They sigh and say, "I wish I could afford to go to Europe or Asia." But the truth is, most of the people who say this have far more financial means than we do. They could do exactly what we do, – from a long weekend on the beach to months exploring the ruins of Asia or South America – if only they knew how. And so can you.

By far the overwhelming consensus out there is that to travel extensively you have to be rich. Believe us, we are far from it! In How To Travel For Free (or pretty damn near it!) we discuss various ways to help people think outside the box when it comes to how to approach travel for themselves.

This book is our own personal account – this is how we do it, along with additional resources we have picked up from fellow travelers, friends, travel writers, and the hundreds of travel books, magazines and websites we've read or written for. It is not meant to be a comprehensive guidebook of everything cheap-travel related, but more of a handbook of our own personal resources and tips.

If you or someone you know wants to learn how to see and experience the world without the need to have or to spend large amounts of money like so many in the travel industry will have you believe, then buy this book now and start your own personal journey toward your dreams of independent travel freedom!
You'll get 1 file (38.0MB)