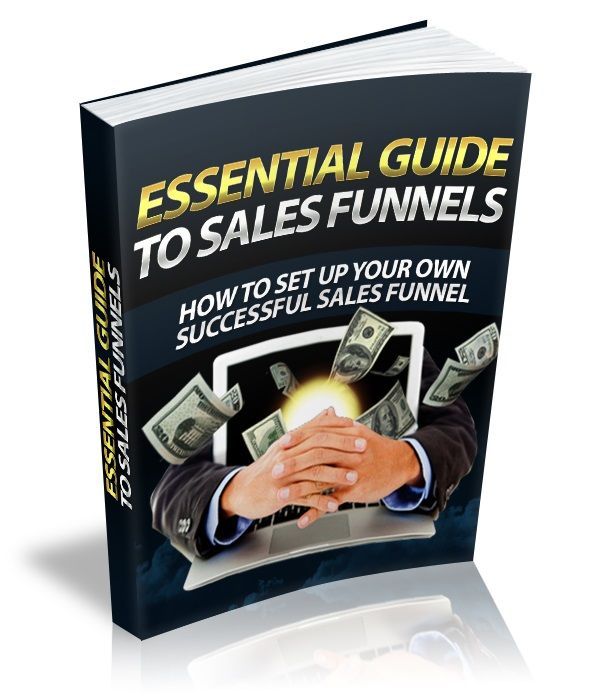 The Essential Guide To Sales Funnels
If You Don't Currently Have Your Own Sales Funnel Then You're Missing Out on a LOT of Sales!

"This eBook Will Show You Why You MUST Use Sales Funnels In Your Online Business and Will Guide You Through Exactly What To Include In Yours..."

Make no mistake about it - if there is one thing you need to learn about internet marketing it would be about building sales funnels...
and that's exactly the subject of this report...

Introducing the...Essential Guide To Sales Funnels

Inside this guide will teach you everything you need to know about sales funnels...

*What IS a sales funnel?

*WHY do I need sales funnels in my online business?

*Setting up your first sales funnel.

*The essential elements of a sales funnel - and what each one does...

*A guide to squeeze pages, entry points, freebies, low-priced offers, upsells, downsells, cross-sells... the lot!

*How to succeed with each element of your funnel - and what to avoid.

*The shift that's happening right now with free products (Hint: it's all about value)

*The thing that's the real jackpot of your funnel...

*And much, much more!


If you've already got your own successful sales funnels up and running - then this probably ISN'T for you...

But if you haven't got around to it yet and feel confused about getting started (or the whole thing in general) then do yourself a favour and grab

a copy of 'Essential Guide To Sales Funnels.'

The info inside isn't totally groundbreaking or 'secret' (and it definitely isn't a push button 'press this and a million Dollars will drop into your account' type solution)

But what it DOES do is give you a good grounding in sales funnels - and it contains info that will make building your first one much easier.



Your License:

Personal use rights only. You can not sell this.



Note:

This product comes with NO warranty or guarantee of any kind.

The author and distributor hereby disclaim all liability for the use of this product. You accept all responsibility by using/selling it.


P.S. You've got nothing to lose in this investment. You will only miss 100% of the shots you don't take. Don't make the same mistake of those who
close this page and miss out on a tremendous opportunity!

You'll get a 165.7KB .PDF file.
More products from Smart Life Skills