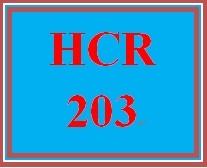 HCR 203 Week 4 Understanding the Collection Process
HCR 203 Entire Course Link
https://uopcourses.com/category/hcr-203/
HCR 203 Week 4 Understanding the Collection Process
Resources: Ch. 14 of Medical Insurance: An Integrated Claims Process Approach (6th ed.) and Microsoft® Help website
Refer to Microsoft® Help website for questions related to creating a flowchart in Microsoft® Word®.
Imagine you are working at a local medical office and have been asked to train the new billing specialist on the collections process.
Create a flowchart using Microsoft® Word® that illustrates the sequence of basic steps in the collection process.
Write a 350- to 700-word script below your flowchart that could be used for a short instructional video to accompany the flowchart. The script must provide an overview of how to use the flowchart when dealing with a collections account.
Include details about what to do at each step in the flowchart.
Cite any sources. For additional information on how to properly cite your sources, log onto the Reference and Citation Generator resource in the Center for Writing Excellence.    
Format your assignment according to APA guidelines.
Click the Assignment Files tab to submit your assignment.
You'll get 1 file (48.1KB)