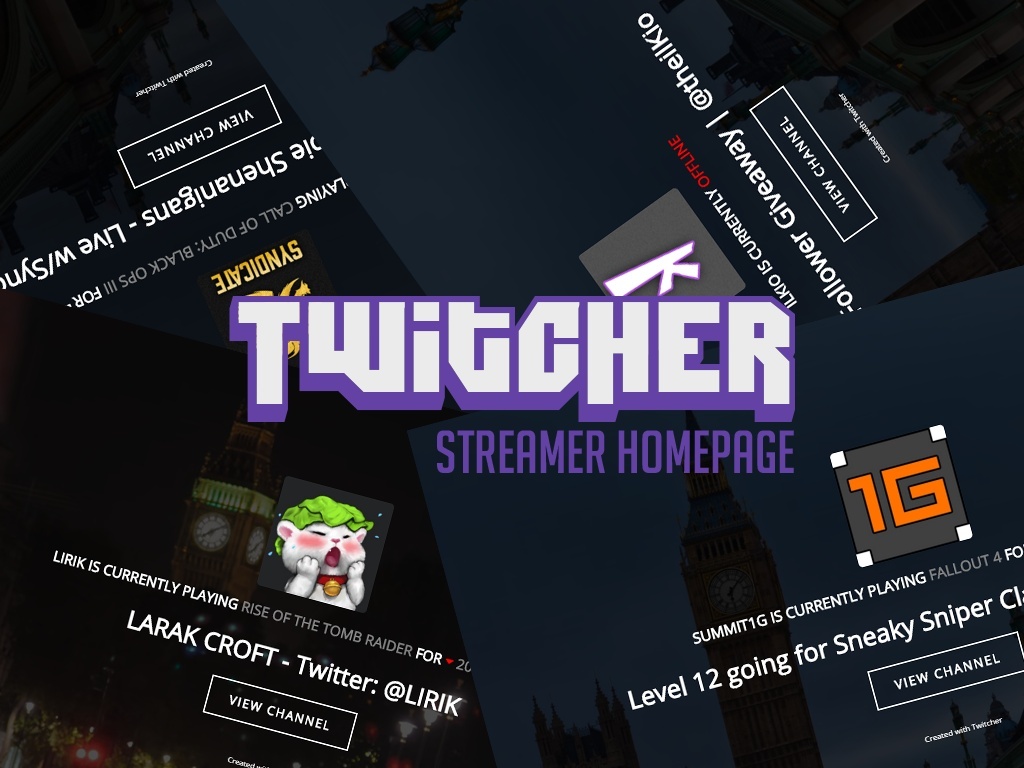 Twitcher - Twitch TV Streamer Homepage
** A webhost is required for this product. **

---
DEMO:
http://dev.stuartd.co.uk/twitcher
DESCRIPTION:
Twitcher is a single page website built for twitch streamers who wish to increase their web presence.
FILES INCLUDED:
- config.ini
- index.php
- style.css
- tubular.js
- favicon.ico
- twitcherBanner.png has been included to allow you to link to your Twitcher Page on your stream without having to create a new channel banner for it, simply use ours!
FEATURES:
Twitcher is connected to the
Twitch.TV
web API to get the latest information about their stream including their online status and viewer count.
It also makes use of jQuery to get a live viewer count that also shows the change of the viewer count every 10 seconds, this brings an element of interactivity to the system.
Twitcher allows users to set a background of the webpage to either an image or any Youtube video they wish, by editing the simple config.ini file the user is able to update the background at any time to show how they feel.
Social links are also present on the Twitcher page, there are mulitple to use including Facebook Pages, Twitter accounts and also a Paypal Donation Link, by adding these to the config.ini, Twitcher will automatically show the ones you wish to include.
INSTALLATION:
- Upload the contents of /UPLOAD/ to your website host
- Edit config.ini to include your twitch channel name
- Visit index.php on your website to view
CONFIG OPTIONS:
Within config.ini there are multiple options available, they are split into 3 categories; Twitch, Web and Social.
Twitch includes information about your Twitch Channel, Web includes information about the design of Twitcher and Social includes information about your different social links.
Please read the comments within config.ini to ensure that you setup the system correctly.
DISCLAIMER:
Twitcher is a single web page system made up of 5 files (listed above) and must be uploaded to a webserver, this can be done via a hosting company or other means.
This is not provided when purchasing the software.
You are free to edit the system as you wish however support will not be given if the credits are removed.
Twitcher is a trademark of StuartD
Twitcher © StuartD 2016
www.stuartd.co.uk
CREDITS:
Developer: StuartD
Purchase:
https://sellfy.com/p/WeEQ/
Twitcher:
http://dev.stuartd.co.uk/twitcher/
You'll get a 52.9KB .ZIP file.
More products from StuartD