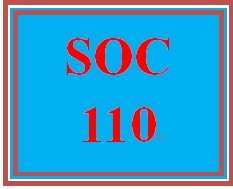 SOC 110 Week 5 participation Problem-Solving Skills
SOC 110 All Participations Link
https://uopcourses.com/category/soc-110-participations/
SOC 110 Week 5 participation Problem-Solving Skills
Watch "Problem-Solving Skills," located on this week's Electronic Reserve Readings page.
Discuss the following and respond to your peers:
How might thinking of a problem as a challenge or opportunity affect how you approach a solution? 
Problem solving 
Hi class--this video examines problem solving skills on a team. Do you have any real life experiences where problem solving skills helped you in the workplace?
You'll get 1 file (33.0KB)
More products from UopTutorials