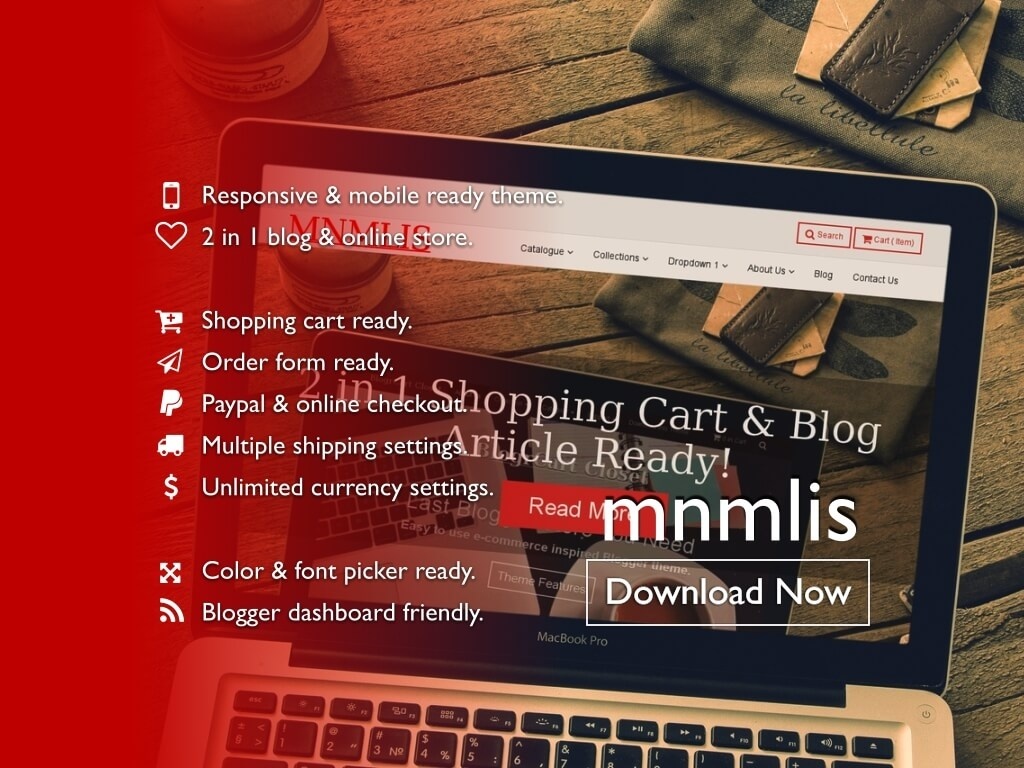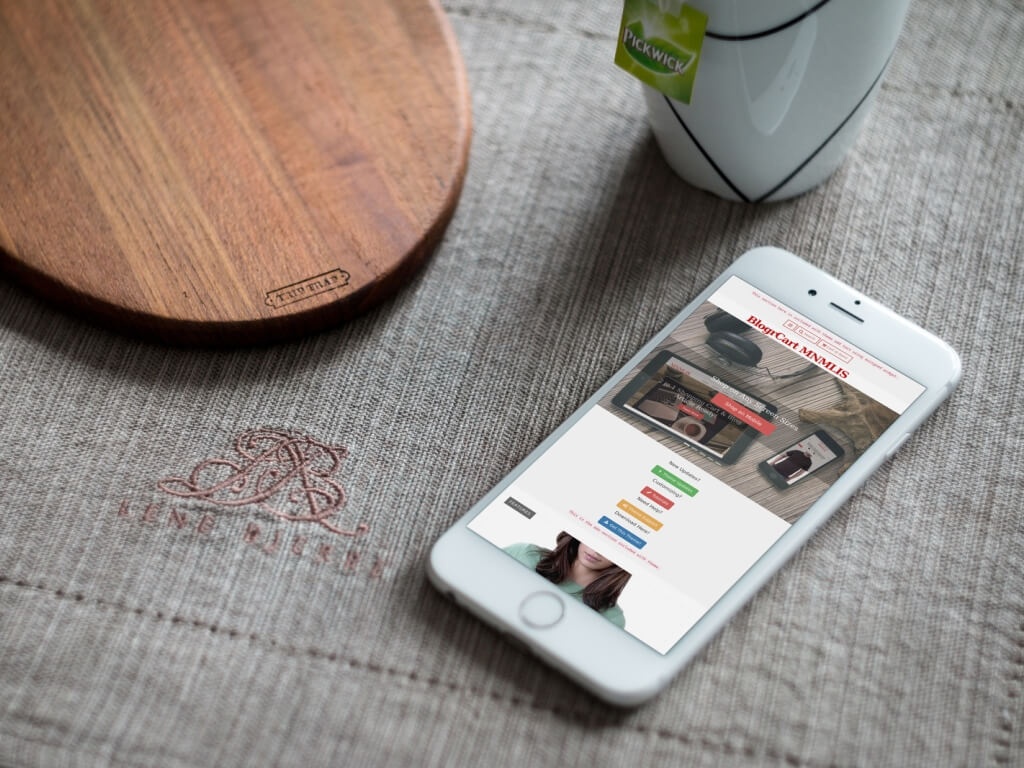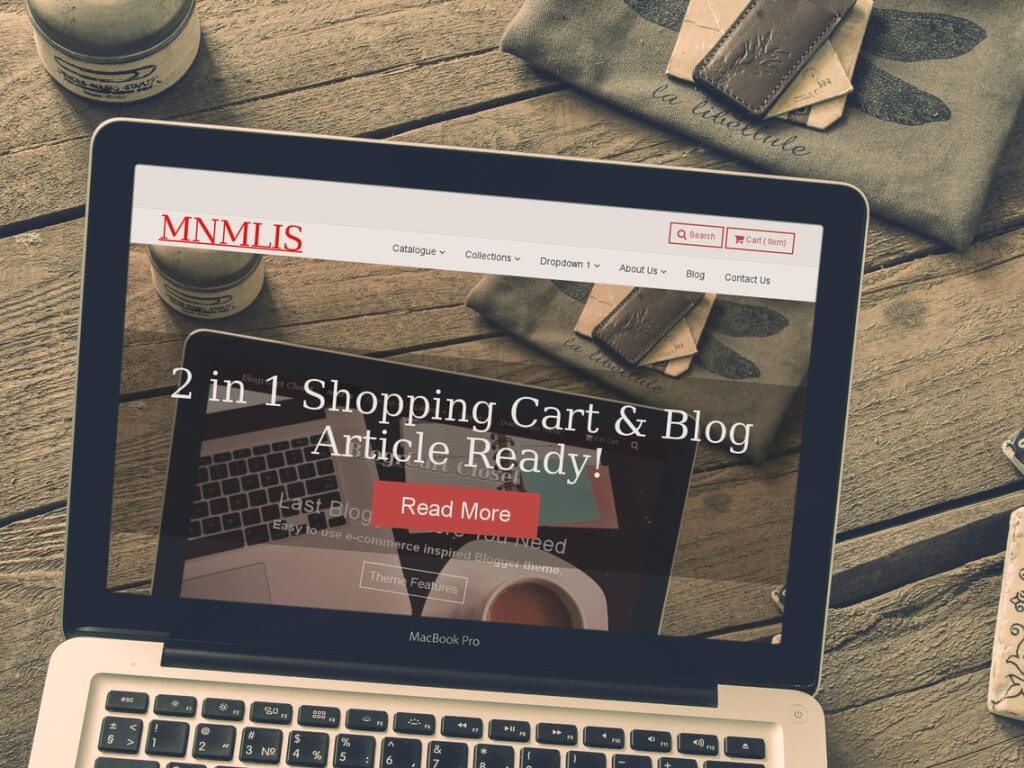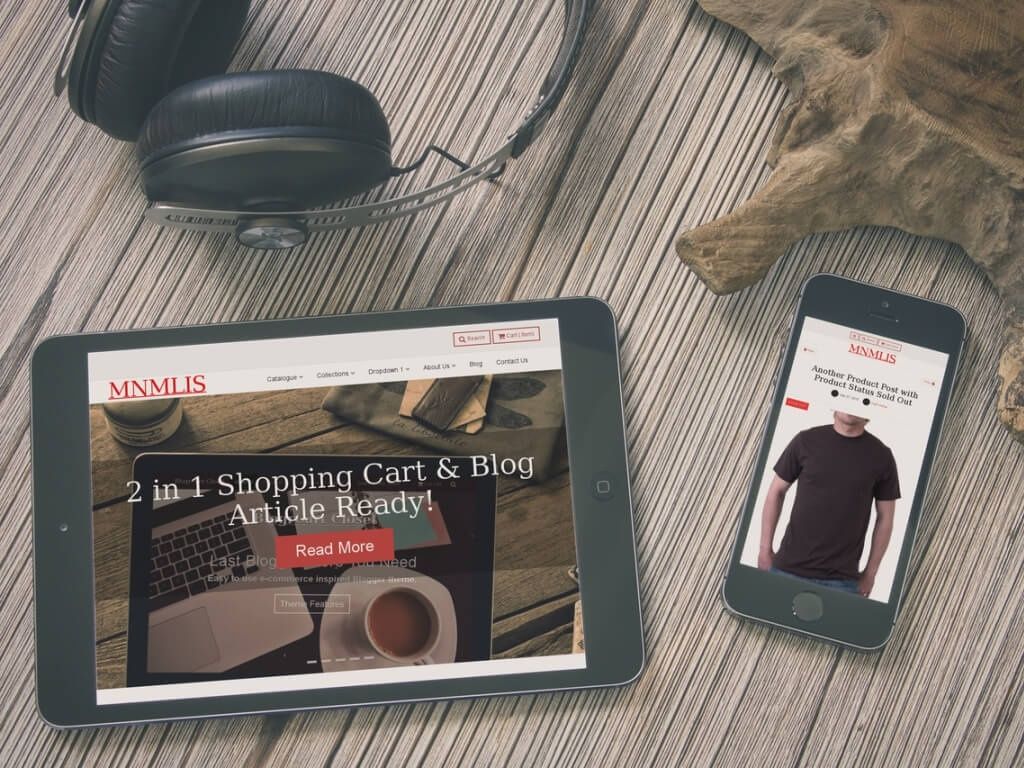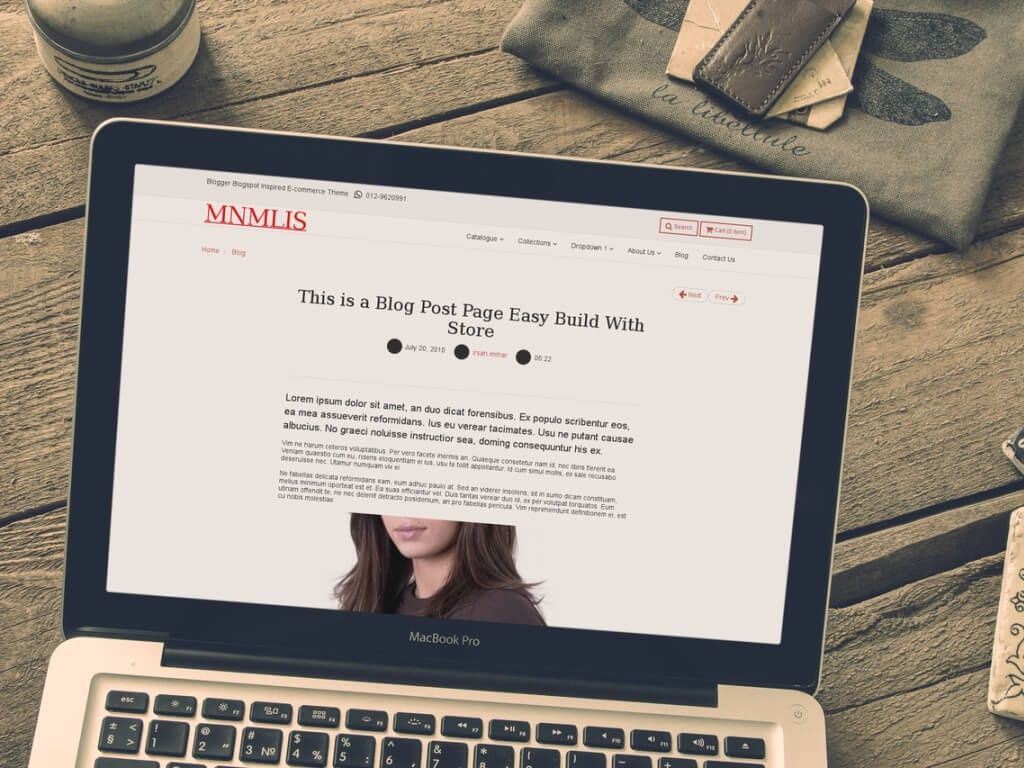 BlogrCart MNMLIS (PRO v2.0) Responsive Premade Blogger Shopping Theme/Template
BlogrCart MNMLIS version 2.0 have been released!
Quicker page display, easier setups, more added functions pre-installed.- No programming required!
ABOUT #blogrcart MNMLIS

---
MNMLIS
- an e-commerce inspired Blogger theme/template, create a web store & also publish blog posts on a single blog! Mode for the web & mobile devices, Instagram feed ready, cross selling to social sites made easily.
No order form to build! No buttons to copy & paste! MNMLIS Blogger template has it all covered - comes pre-installed upon template upload. Shopping cart & summary section included, handles users checkout to Paypal or even sending orders via email in a flash.


NO PROGRAMMING NEEDED!


No monthly service fees.


No subscription required.


No code editing for installation.


Fully documented to customize to your own!


USEFUL LINKS
---
Live Preview: 
http://blogrcart-mnmlis.blogspot.com/
Theme Documentation: 
http://blogrcart-mnmlis.blogspot.my/p/theme-documentation.html
Shipping Option Tool: 
http://blogrcart-mnmlis.blogspot.my/p/shipping-options-tool.html
Instagram API Tutorial: 
http://blogrcart-mnmlis.blogspot.my/p/create-register-instagram-client-id.html
Support/Help: 
http://blogrcart-mnmlis.blogspot.com/2015/08/theme-help-support.html
FEATURES
---


Responsive web store design template on a FREE Blogger blog platform!


Full width image slider with touch/mouse swipe action - dashboard upload image features.


Blogger Template Designer compatible - select & customize colors, backgrounds, text, fonts.


Supports 25+ preset currencies & create custom currency avail.


Shopping cart views ready.


Send order form checkout ready.


Paypal checkout pre-installed.


Tax & multiple shipping settings available.


Responsive drop down main navigation


Product search built in ready.


Related product display.


Product status display.


Auto post editor ready -  quickly publish products pages.


Error page ready.


500+ icons ready.


Search engine optimized, meta tags ready, meta social sharing tags ready


Quick loading, web page best practices & clean readable mark-ups.


Mobile apps icons sample included (mobile bookmark apps icons).


Sample pages upload ready - quick start theme install!


New for Version 2.0++


Redesigned shopping cart view.


Re-coded & optimised javascript/plugins


Added shipping by zoning & weight checkout


Added currency changer checkout


Detailed out dashboard layout display.


Shipping option tool helper provided.


One page detailed theme documentation.


Added more Blogger Template Designer custom settings.


No coding setup dropdown navigations


Updated Instagram integrations.


Added ads section.


WHAT WILL YOU GET?
---


Full readable template file for upload


Sample products & blog pages/contents file for instant upload


Auto post helper file


Documentation with video tutorial & links


Editable widget HTML codes for text with styling.


Mobile apps icon examples/sizes


License & usages.


Free support & installation.


Attribution or credit links removed!


[BONUS] Example product images to use!


CHANGELOG/VERSION
---
Current Version 2.4
 - 25
th Sep 2016
- Updated responsive framework to v3.3.7

Version History: 
http://blogrcart-mnmlis.blogspot.my/p/version-history.html
RETURNS & REFUNDS
---
To protect USER & SELLER for online purchases, transactions here is bound to Paypal On-line Protection Program which allows REFUNDS for any of our Pro theme downloads. Detail & updates available at
www.paypal.com
- conditions applies.
#blogrcart AROUND THE NET 
---
"
... Thanks for your support. It's great, simple and easy to use.
" -
Tony Chan
(facebook fan & blogger). More here at 
http://twitter.com/hashtag/blogrcart
IT'S YOURS!
---
Download, install & run your own on-line shop in minutes!
Click the green button
below to start your instant download - fast, secured & backed by the best peoples in this industry.
You'll get a 2.7MB .ZIP file.