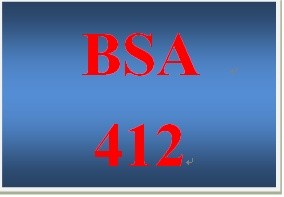 BSA 412 Week 3 Individual Data Flow Diagram
BSA 412 Entire Course Link
https://uopcourses.com/category/bsa-412/
BSA 412 Week 3 Individual: Data Flow Diagram
Review the following scenario:
Frank's Chili Dogs wants to install a system to record orders for its chili dogs. When a customer calls, they are asked for their phone number. The proposed system will look up the customer's name using the phone number and, if an existing customer record is found, retrieves the customer's name and address. If no record is found, the employee taking the order asks for the customer's name and address. An order consists of the number of chili dogs and the number and type of beverage. After the order is taken, the tax is calculated, a delivery charge is added, and a receipt is printed.
Draw a context-level data flow diagram for this problem.
Write 350-word description of the data flow diagram.
Submit your assignment using the Assignment Files tab.
You'll get 1 file (36.0KB)
More products from UopTutorialStore