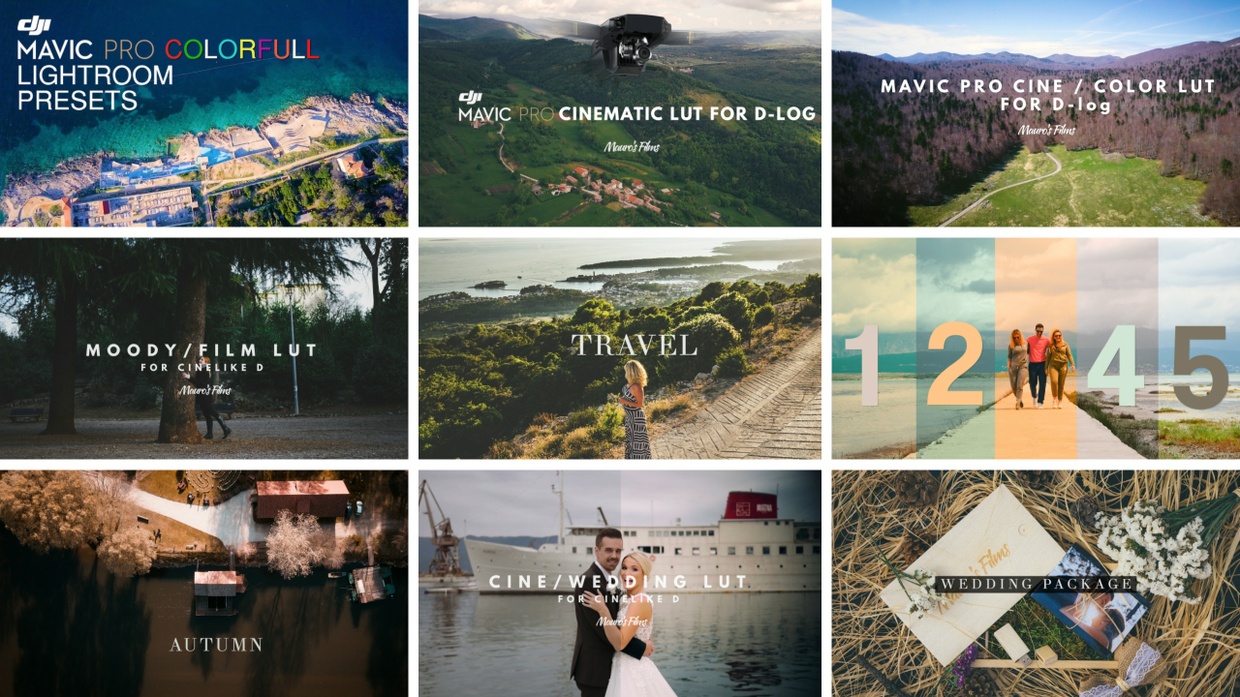 Mauro's WHOLE STORE PACK
DOWNLOAD MY WHOLE STORE IN ONE LINK WITH 10% DISCOUNT
In this package you will get:
1. Mauro's AUTUMN Looks
2. Mauro's 5 BLOCKBUSTER luts
3. Mauro's Colorful DJI MAVIC PRO LIGHTROOM PRESETS
4. TRAVEL LUTS + PRESETS package by Mauro's Films
5. WEDDING LUT PACKAGE PRESENTATION PACK (Lut + Lightroom Preset)
6. Mauro's CINE / FILM LUT D-LOG for MAVIC PRO/INSPIRE 2/PHANTOM     
 4/PHANTOM 4 PRO
7. Mauro's Cine/Color LUT D-LOG for MAVIC PRO/INSPIRE 2/PHANTOM 4/PHANTOM 4 PRO
8. Mauro's Moody/Film LUT GH4/G7/G80/G85/GH5
9. Mauro's Cine/Wedding LUT GH4/G7/G80/GH5
10. Mauro's BASIC/STYLE LUTS Panasonic G7/G80/G85/GH3/GH4/GH5/FZ1000/FZ2000/2500
Please note that this set of color grading LUTS and Presets are greatly dependent upon correct lighting and shooting conditions. 
Please note also that THESE ARE NOT A STAND-ALONE APPLICATIONS! You need an NLE editing program or to apply the LUT!
The luts and presets can be used in every standard/flat profile/RAW of your DSLR, DJI DRONE OR MIRRORLESS CAM like CANON, SONY, LUMIX, NIKON, DJI, etc.
The LUTs should be applied in the creative tab of Lumetri Color (Premiere Pro) so you can adjust the Intensity or in Davincie Resolve via the color management tab.
If you are using these with FCPX, they DO work, but you need to install a LUT Loader for FCPX to recognize them. You can download one free for FCPX here:
http://store.pixelfilmstudios.com/product/fcpx-lut-loader/
The presets included in this pack are compatible with Adobe Lightroom 4, 5, 6, and CC, and will work with JPG as well as RAW images.
Made with love in the Post Black Friday madness by,
Mauro's Films
$45
You'll get a 4.5MB .RAR file.
More products from Mauro's Films