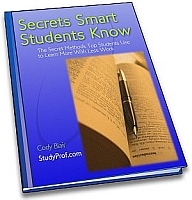 Secrets Smart Students Know eBook
Find out...

How to do a single, 10 minute review of your notes that can DOUBLE your recall one month later.

A simple trick I used to get the highest exam grade in the class with only 30 minutes of study.

Note taking secrets that will enable you to write half as much while remembering more than ever before.

The quick and easy recipe to shorten your study sessions while actually increasing your test scores. Your friends will think you're cheating!

The single biggest mistake made by students just like you and how it can cause you to crash and burn during finals!
I want to get 30% off
You will receive a 30% discount if you share this product on social media. The discount will be automatically applied to your purchase.
Tweet
Looks like you are using AdBlock. And it's blocking the social sharing functionality on this page. To receive the discount, please disable AdBlock on Sellfy.
I'd rather pay the full price
Buy Now
Purchase the product without sharing it on social media. Your download will begin immediately after payment.