Secrets Smart Students Know eBook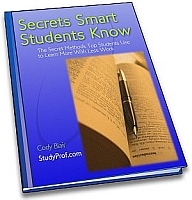 Secrets Smart Students Know eBook
Find out...
How to do a single, 10 minute review of your notes that can DOUBLE your recall one month later.
A simple trick I used to get the highest exam grade in the class with only 30 minutes of study.
Note taking secrets that will enable you to write half as much while remembering more than ever before.
The quick and easy recipe to shorten your study sessions while actually increasing your test scores. Your friends will think you're cheating!
The single biggest mistake made by students just like you and how it can cause you to crash and burn during finals!
More from this seller
This is a PDF document containing the password for the StudyProf GRE Prep Algebra video. This video will show you everything you need to know to get prepared for algebra questions on the revised GRE. It includes equalities, inequalities, word problems, simultaneous equations, and more. Please make ...
**Become A Super Scholar** The StudyProf will walk you step-by-step through how to set and achieve your academic goals and establish study habits that will take you from student wimp to academic demi-god. This one-hour video course will show you the quickest, simplest (and best-researched) ...
Choose product
Place order
Download product
Secure 256-bit connection
Choose product
Place order
Download product