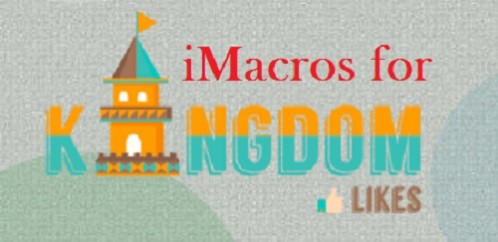 Kingdomlikes iMacro Scripts to Collect points Automatically
You can use Kingdomlikes to get Twitter Followers and Retweets, Instagram Followers and Likes, Youtube Subscribers and Views, Pinterest Followers and Likes, Google+ Circles and much more.
To get all those things for your social media accounts, you need points on Kingdomlikes. You can obtain them by buying them, or by collecting them for free. Buying them is expensive, and collecting them for free is boring and time-consuming. For that reason we use iMacros in order to collect points for Free and on Autopilot!
These are the iMacros you will get by buying this offer:
1. Facebook Follow
2. Facebook Page Likes
3. Facebook Post Likes
4. Google+ Circle/Follow
5. Google+ Share
6. Instagram Follow
7. Instagram Like
8. Pinterest Follow
9. SoundCloud Likes
10. SoundCloud Plays
11. Twitter Follow
13. Twitter Like
13. Twitter Retweet
14. Youtube Dislikes
15. Youtube Likes
16. Youtube Subscribers
17. Youtube Views
18. MasterScript which combines Twitter Follows, Youtube Subscribers and then Instagram Follows
The scripts will allow you to collect points in each of those categories, and the MasterScript combines a few categories for even more automation. You will also receive an Instructions file with your purchase showing you how to install and use everything, and you also get a 6 Month Guarantee for all of the scripts.
Note: Scripts updated and working well into 2018!
If you have any questions or need any help feel free to contact me on one of my social media accounts which can be found on my Sellfy profile, here:
https://sellfy.com/Lurima
Enjoy your iMacros!
You'll get 1 file (145.0KB)
More products from Lurima