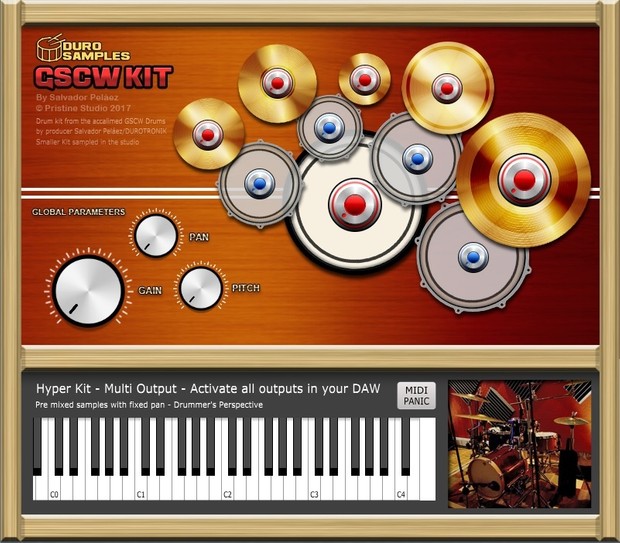 GSCW KIT by Duro Samples - vst for MAC
GSCW KIT - DURO SAMPLES Library ©2017
For years I've been asked about my GSCW Drums samples and heard a lot of positive comments thru out all this time and had a healthy KVR forum thread with over 100k views and 36 pages of comments.
So now days, it has come to me the chance to offer them again in VSTi format to be played in any VST host DAW - MAC or PC. They have been converted to VSTi and AU by yours truly... Back then I had them as just samples and HALion 2 format.
I have new studio website and new name.
www.pristinestudio.com
Sometimes less is more.!!!
Simplicity and and play-ability is the goal with this simple yet powerful VSTi
It loads fast, it's easy on your CPU, DFD streaming, samples are already mixed down to stereo files (drummer's perspective) so there is no extra fuzz with bleed mics, room mics, etc.. Making it easy to use.You have the option of using the stereo output VSTi or the 5 outpus VSTi. Activate outputs in your DAW.
I'm a music producer and a drummer so articulation is very important to me when it comes to drum samples. I have all kinds of drum libraries that you can think off but sometimes the side stick sucks or something is not translating well, there is a round ribbon samples that pops where you don't want it, etc...
So I took the dare of making my own samples back then and have never stopped. In any way my samples will replace other well established drum VSTi but I assure you they will inspire you to new roads in your music making....
You'll get 1 file (320.9MB)
More products from 8900293357762485