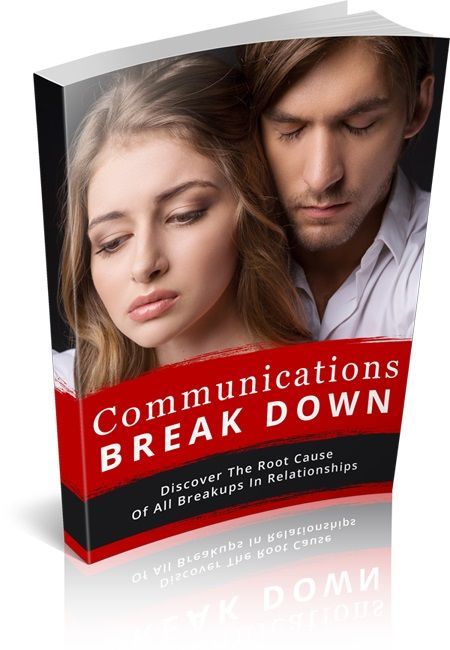 Communications Breakdown
"Get All The Support And Guidance You Need To Be A Success At Having Better Communication!"
This Book Is One Of The Most Valuable Resources In The World When It Comes To Discovering The Root Cause Of All Breakups In Relationship!
Communication is important in a relationship. Effective communication is even crucial for a long-lasting relationship. One of the main reasons for breakups in a relationship is the inability to understand each other.
Let me explain...
When a couple decides to break up, it is always because they are not able to communicate with each other. Not communicating enough, whether verbally or non-verbally, will lead to misunderstandings or misinterpreting of messages between you and your partner. You can consider working, on communicating more with your partner, to show that you still care and love him/her.
And the worst part? The more you don't know the less you will succeed!
Make no mistake about it...
"The Costs of NOT Getting All The Info You Need Are Just Too High!"
Your lack of knowledge in this area may not be your fault, but that doesn't mean that you shouldn't -- or can't -- do anything to find out everything you need to know to finally be a success!
The costs of continuing to repeat this pattern are just too steep...
I mean, think about all of the money you're wasting because of how continuing to try things that don't work costs you money... the time you're losing due to going around in circles is also time-consuming...
... and that's not to mention the toll it's taking on your personal life, like the way the failed attempts over and over can impact personal life/relationships.
So today -- in the next FEW MINUTES, in fact -- we're going to help you GET ON TRACK, and learn how you can quickly and easily get your relationships under control... for GOOD!
"This Book Below Will Show You Exactly What What You Need To Do To Finally Be A Success With Your Relationships!"
It is never ideal to think you are right all the time, especially when it involves your partner, just to guard your self-esteem or pride. Trying to win an argument means you are trying to dominate your partner, which is a very selfish thing to do and you might hurt your partner, which may lead to a bad breakup.
And all of this up till now is just the beginning!
Are you ready?
"Introducing… Communications Break-down!"
This powerful tool will provide you with everything you need to know to be a success and achieve your goal of getting your relationships to a successful place.
With this product, and it's great information on relationships it will walk you, step by step, through the exact process to help people get all the info they need to be a success.
Who Can Use This Book?
- Entrepreneurs
- Internet marketers
- Network marketers
- Life Coaches
- Personal Development Enthusiasts
- Self Improvement Bloggers
- Web Publishers
- Writers and Content Creators
- And Many More!
In This Book, You Will Learn:
*Don't understand each other
*Never communicate enough
*Winning over an argument
*Complicating simple things
*Applying assumptions
*And so much more!
Your License:
Yes can be sold.
Yes can sell resale rights or master resell rights.
You can add the product into your product bundle or package and sell for a higher price.
Yes can be added to a paid membership site.
You CAN give the product away for FREE
You CANNOT offer the product as a bonus to another product you are selling. However, you can offer other bonuses to this
product when selling
You CANNOT sell the product on auction sites such as
eBay.com
You CANNOT use nor sell this product in a dime sale event, under any circumstances at all. An event that constitutes a dime
sale is one whereby the product starts selling at a very low price and increases every dime after a certain time frame or with every purchase using the dime sale script
Note:
This product comes with NO warranty or guarantee of any kind.
The author and distributor hereby disclaim all liability for the use of this product. You accept all responsibility by using/selling it.
P.S. You've got nothing to lose in this investment. You will only miss 100% of the shots you don't take. Don't make the same mistake of those who
close this page and miss out on a tremendous opportunity!
You'll get a 2.2MB .ZIP file.
More products from Smart Life Skills