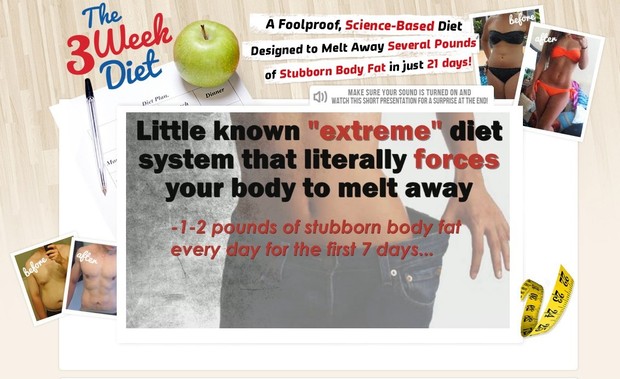 3 WeeK Diet 2.0 The Real Revolutionary Weight Loss System
THE 3 WEEK DIET is a revolutionary new diet system that not only guarantees to help you lose weight — it promises to help you lose more weight — all body fat — faster than anything else you've ever tried.


Simply put, what most diets accomplish in 2-3 months,
The 3 Week Diet does in just 21 days, including:

12-23 pound reduction in body fat
2-4 inches from your waistline
2-3 size drop in dress size
Increased muscle tone
Decreased cellulite
Faster metabolism
Increased energy
Healthier hair & skin
Improved cholesterol levels
And a host of other health benefits

I'm not going to insult your intelligence or risk my reputation by making some outlandish claims that in 21 days you're going to have a set of 6-pack abs or be 50 pounds lighter than you are today without any effort...

But what I am going to promise you is this:
If you dedicate yourself over the next 21 days and follow The 3 Week Diet as outlined, you will be walking around with 12 to 23 pounds of body fat gone from your waist, hips, thighs, belly and butt. Your clothes will be looser, you'll look healthier and more attractive…and you'll have more energy than you've ever had in a long, long time.

Go ahead and read through the manuals, commit to the diet and really put it to the test. I promise that you'll be truly amazed at the results you can actually see in just a matter of days.
You'll get 1 file (15.7MB)