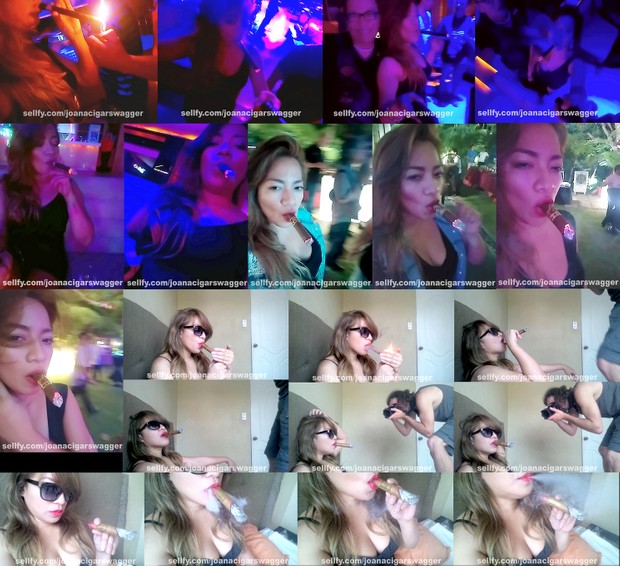 Little Black Dress
Even wondered what it looked like to witness a woman all dolled up, in a nightclub, wearing a fitting little black dress lighting up a big cigar and smoking it while getting down on the dance floor?

Well, wonder no more, I've got a video for you where I'm doing exactly that.  I brought my selfie stick with me when I went clubbing last week so that I could take a video and show you what I look like when I go out and dance smoking my cigars.

I think it must be one of my sexiest video to date!

It felt like it for me, I felt very sexy and alluring smoking my cigar on the dance floor, and it was a very long cigar too, 7 inches, and great to inhale as well.   That first part is 4 minute.

After that part, I'm throwing in absolutely free another 4 minute video taken another evening last week as well, where I'm smoking a thick and rather long cigar too, and loved inhaling this one as well, very mild, after a dinner outside during a party.

A lot happening in these 2 parts, the clubbing and the dinner, as you'll see in the preview.

In addition to all that, I'm also adding for free again a long preview in the video (but not in that preview) of about 1 minute of my first photo shoot I've just done, with a professional photographer, where I'm trying to capture the sensuality of cigar smoking. I will not be showing this video before a while, so this is your chance to get a free sneak peak.

A lot to say this time, but I'm very excited about all this and I even though since it was very dark in the club the video is not full HD, the action and what it shows largely makes up for it.

I hope you like all of these 3 moments as much as I loved living them.

Smokey kisses,

Joana.
You'll get 1 file (408.8MB)
More products from Joana Cigarswagger