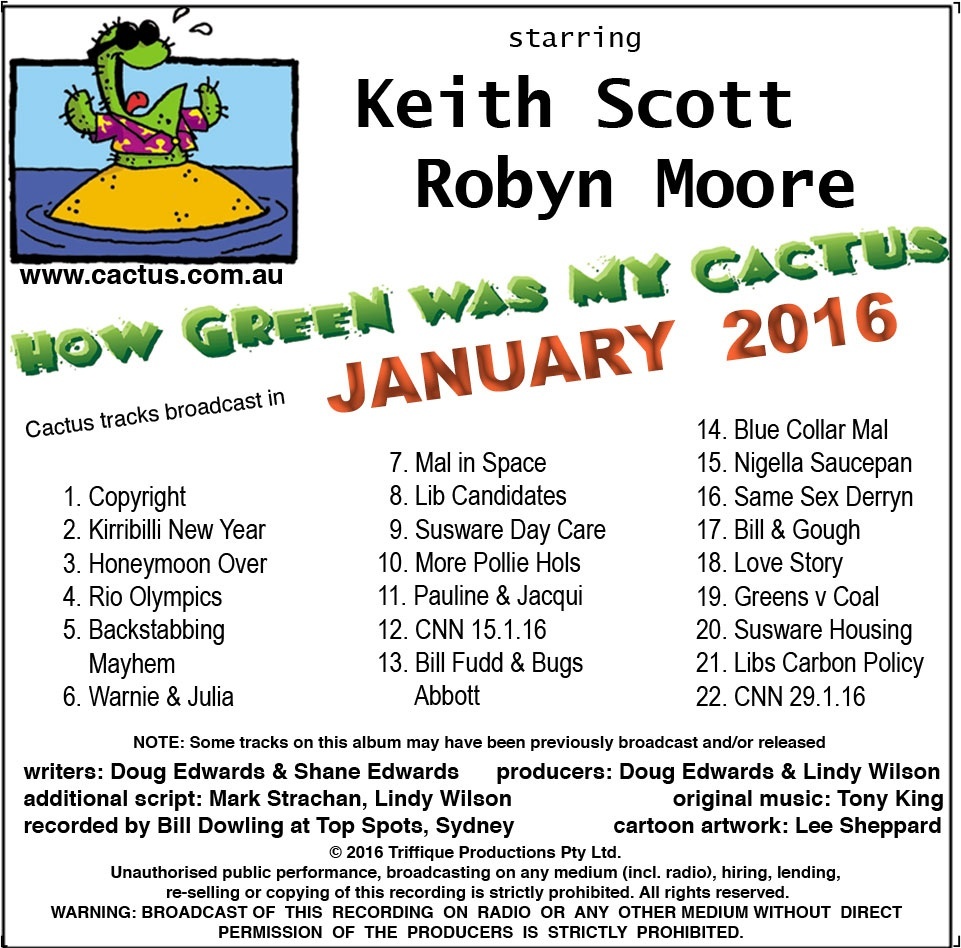 CACTUS - JANUARY 2016
CACTUS - JANUARY 2016 TRACKS
1. Copyright: All material downloaded is copyright.Unauthorised public performance,broadcasting on any medium (including. radio),hiring,lending,re-selling or copying of this recording is strictly prohibited.All rights reserved. ©2015 Triffique Productions Pty Ltd 2. KIRRIBILLI NEW YEAR: Flopposition leader Bill Curly gatecrashes the Liberal Party's New Year's Eve party because nobody turned up at his own party. 3. HONEYMOON OVER: Malcolm Talkbull confronts those damaging his leadership, disloyal Lib MP Ian MacGravel, idiot ex-PM Tony Abs and the embattled Minister for Being Special, Mal Fluff. 4. RIO OLYMPICS: Big Gazza Roidman previews the Olympics in Rio. Will the stadium be ready? Will the water be swim inable? Does anyone care as long as the beach volleyball goes ahead? 5. BACKSTABBING MAYHEM: Political commentator Mark Mayhem looks at the history of backstabbing in the Labor Party. Which is about the only policy we can trust them to deliver. 6. WARNIE & JULIA: Chat show host Shane Warne interviews ex-PM Julia Buzz-ard and is captivated by her beautiful eyes. Is Warnie trying to crack on?And who is texting Jules? 7. MAL IN SPACE: Emperor Malcolm Talkbull invites his colleagues to his country property, the Plunderosa. They learn that Mal has taken only a short Christmas holiday, just as the renting class does. 8. LIB CANDIDATES: The true inside story of why the Liberal Party dumped Tony Abs as its leader. Perhaps it was because he was less popular than a Syrian holiday. 9. SUSWARE DAY CARE: Hey failed business people! Want the franchise deal of a lifetime? Own a piece of Susware's new chain of day care centres! Yes, SusCare is here! 10. MORE POLLIE HOLS: Kochie from Sunrise reveals what our politicians get up to on their summer break. Just when you thought Kochie couldn't get any more boring. 11. PAULINE & JACQUIE: Senator Jacquie Tacky gets a call from One Nation Party founder Pauline Hatful, who inspired Jacquie to go into politics. Well if Pauline can do it anyone can. 12. CNN 15.1.16: Sandra Silly with news, Gazza with sport, and we learn that our showbiz guru Richard Richard spent time in drug rehab but is still injecting -he just can't do without his Botox. 13. BILL FUDD v BUGS ABBOTT: Labor cartoon character Bill Fudd chases Tony Rabbott with a shotgun. Bill hates Tony for losing the prime ministership and ruining Bill's chances of winning the election. 14. BLUE COLLAR MAL: Cactus Island's CEO Malcolm Talkbull visits the Busted Arms Hotel to gain the trust of the working class, formerly known as Abbott's albatross. 15. NIGELLA SAUCEPAN: Domestic goddess Nigella Saucepan shows us how to cook her favourite afternoon snack, Little Gunja-Bread Men. 16. SAME SEX DERRYN: Derryn Livershot investigates marriage equality, revealing that Malcolm Talkbull is in favour of same-sex marriage because it means he can marry himself. 17. BILL & GOUGH: Flopposition leader Bill Curly falls asleep and dreams that ex-PM God Whitlam offers to help him. But Bill explains that he needs no help sleeping. 18. LOVE STORY: The 7.30 Report host Leigh Nails tries to persuade Malcolm Talkbull to restore funding to the ABC. She wants to buy Annabel Crabbe a hair brush. 19. GREENS v COAL: Green Party Godfather Richard Corleone confronts coal miners Clive Parmesan and Cruella de Creosote, interrupting Cruella as she plans to mine poor people for their organs. 20. SUSWARE HOUSING: Hey renters! Hey aspirational homeowners! Do you think buying your own home is out of reach? Susware has the answer! With a ringing endorsement from ex-Treasurer Joe Wobbly. 21. LIBS CARBON POLICY: Emperor Malcolm Talkbull, having led the charge against climate change on the battlegrounds of Paris, reveals a new plan to defeat global warming. 22. CNN 29.1.16: Sandra Silly with news, Richard Richard with showbiz and Big Gazza Roidman with sport. Top story: Bill Curly tries to improve his popularity with a Donald Trump hairpiece.
NOTE: TRACKS ON THIS ALBUM MAY HAVE BEEN PREVIOUSLY BROADCAST AND/OR RELEASED. Copyright: All tracks and material ©2015 Triffique Productions Pty Ltd. All rights reserved. All material downloaded is copyright. Unauthorised public performance, broadcasting on any medium (including. radio), hiring, lending, re-selling or copying of this recording is strictly prohibited. All rights reserved.
You'll get a 42.2MB .ZIP file.
More products from doug_e