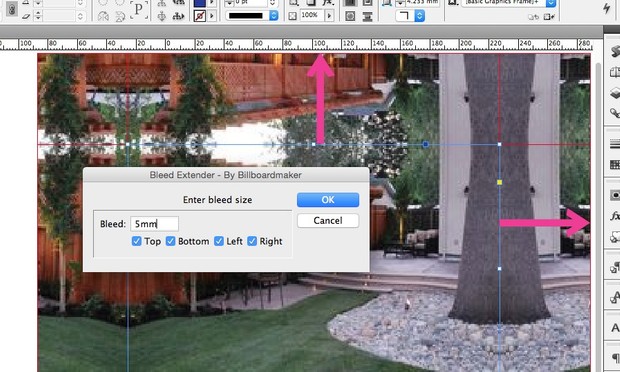 Bleed Extender - InDesign Script
Need to quickly extend an image but can't be bothered opening it in Photoshop and air brushing in that extra 5mm of bleed? But the idea of reflecting it in InDesign on all four sides is just as painful? Not a problem with Bleed Extender, it does the copy, pasting and reflecting automactically for you. Either top, bottom, left or right you choose. Its that quick and easy.

This script can also be used to create quirky patterns with one image.

How to install
Open InDesign and in the Scripts Panel (Window Utilities Scripts), right click over a script and select reveal in Finder (Mac) or reveal in Explorer (Win). Copy and paste your new script to this location.

How to use
In InDesign top menu go "Window" then "Utilities" and then "Scripts". In the Scripts panel you will find the script "Bleed Extender"

How to create a keyboard shortcut
In InDesign top menu go "Edit" then "Keyboard Shortcuts" under "Product Area" select "Scripts" then highlight "Bleed Extender" and create and save your new keyboard shortcut.
You'll get 1 file (41.1KB)
More products from Billboard Maker