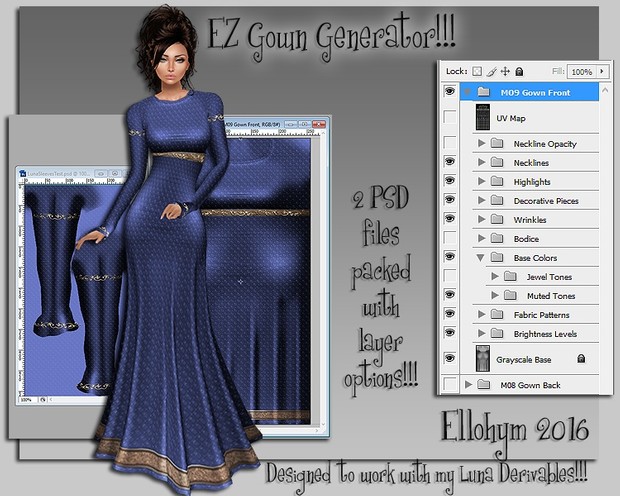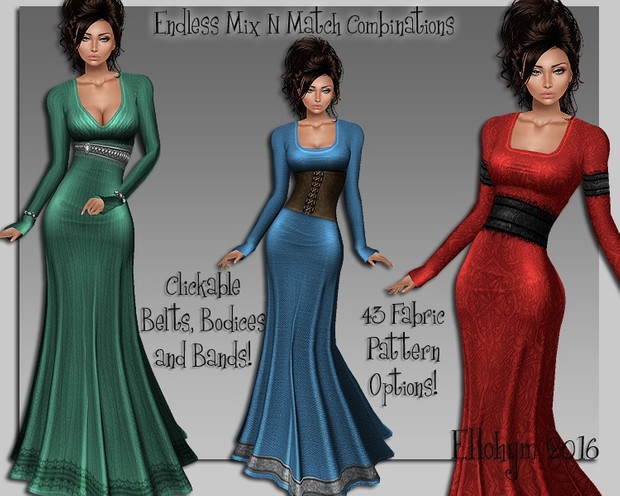 Ellohym - EZ Gown Generator - Fully Layered PSD Files
This Zip File Includes:
*1 PSD which holds all layers for both FRONT and BACK of gown in separate groups, each with their own layers for easy matching of color, pattern, and embellishments.
*1 PSD which holds all layers for sleeves.
*7 .png files for altering Neckline Opacity (also included in the PSD files)
This is designed to work on all of the Luna sheath gowns in my catalog. For the exact gown mesh featured in the photos above, use the following link:
http://www.imvu.com/shop/product.php?products_id=34840456
-Both PSD files hold grayscale bases, 43 Fabric Patterns, 14 Clickable built in Color Choices, Numerous Accessories such as Metallic Embellishments, Gilded Trim for Hemlines, a Gemstone with Clickable Color Choices...and even a Layered Leather Bodice for Medieval/Renaissance Fashions.
-If you are buying this item, I must assume that you have general Photoshop knowledge and are able to navigate your way about layers, layer styles, effects, etc. This will allow for further customization by altering hues, opacity and the many other things that may be done with this handy little tool. (This was made with Photoshop CS3)
The Rules...
*Do not resell or share any of the files included in this pack.
* DO NOT use this generator simply to make textures for file sales...that's just sleazy. 
*If you have multiple IMVU accounts, you may use these files on any of them, so long as you are the rightful account owner.
*Designed for use on IMVU but you may use them on any 3d platform of your choosing.
Thank you!
-Ellohym
You'll get 1 file (17.0MB)