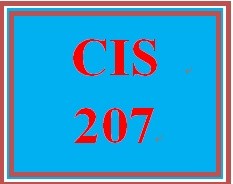 CIS 207 Week 5 Individual: Developing a Strategy to Build a New Mobile Ordering System
Entire Course Download Link
https://uopcourses.com/category/cis-207/
 CIS 207 Week 5 Individual: Developing a Strategy to Build a New Mobile Ordering System 
Write a 350- to 700-word memo, individually, based on your Week Five Learning Team Collaborative discussion, with your recommendations to the IT Steering Committee. Include the following content in your paper:   
Summarize the responses to the questions from your team discussion.  
Choose the solution that you personally feel is the right solution.  
Explain the reason you made your choice and justify your choice with current references.  
Click the Assignment Files tab to submit your assignment.
You'll get 1 file (45.0KB)