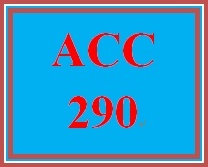 ACC 290 Week 1 participation Ch. 1: Overview with Paul Kimmel
Entire Course Link
https://zh.scribd.com/document/340327850/Uop-Tutorial
 ACC 290 Week 1 participation Ch. 1: Overview with Paul Kimmel 
Watch the "Ch. 1: Overview with Paul Kimmel" video located in Week 1 Video Assignments in WileyPLUS.
Consider the following as you watch the video:   
In this video, Paul Kimmel, the co-author of your text, introduces you to the basic facts about financial reporting and why companies use financial reports. In addition, you will listen to examples from real world experience as Mr. Kimmel sets the tone for what is ahead in Ch. 1.
You'll get a 29.5KB .DOC file.
More products from UopTutorials