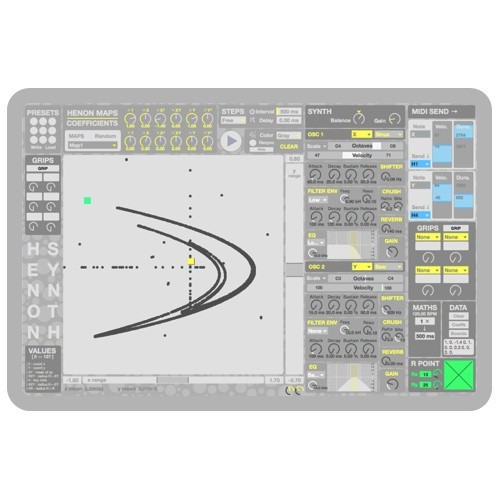 M4L szk.HENONSYNTH.amxd
HENONSYNTH is a complex Synth Instrument and Modulator based on quadratic mapping of strange attractors. The synth's algorithm generates a quasi-unlimited quantity of attractors that allow you to control different modules and to combine them. Three Modules are available : a 2x Oscillators Synthetizer, a MIDI Sender and an Ableton Live API's Controler. Calculated values from the quadratic system are used to feed these Modules to create a wide range of auto-generated sounds.
∿ Files included :
— szk.HENONSYNTH.amxd / MIDI Instrument
— szk.HENONSYNTH_MIDIRECEIVE.amxd / MIDI Effect used to receive MIDI Notes send by the synth
— polyhenon1.maxpat
— polyhenon2.maxpat
— Manual.pdf
Put all the files in the same folder.
∿ QUADRATIC SYSTEM
Coefficients used by the iterative quadratic sytem.
∿ SEQUENCER
A step-sequencer driving the algorithm computation.
∿ GRAPH / MAP
Two-dimensional graph that displays the X and Y values calculated at each step.
∿ FEEDERS MENUS
Menus that allow you to feed the Modules with different computed values.
∿ MODULE #1 | SYNTH
2x Oscillators with ADSR, Filter Env. ADSR, Frequency Shifter, Crusher,Reverb and Equalizer.
∿ MODULE #2 | MIDI SEND
Send MIDI Notes to 2x Outputs.
∿ MODULE #3 | GRIPS
Take control of Ableton Live's parameters and modulate them. First one (left) is free, second one (right) is controled with computed values.
∿ ADDITIONAL FEATURES
• PRESETS : Write & Load presets file
• MATHS : Calculate the sequencer steps in function of the Live Set's BPM
• DATA : Get the Map Coefficients and boundaries in simple .txt format
• R POINT : Additional point used in calculations
• VALUES : A simple reminder of the different computed quantities
∿ MIDI RECEIVER
Put this device on any MIDI track and choose the Receiver (according to the Output) to get Note, Velocity and Duration from the HENONSYNTH.
A full documentation pdf file is included with the device.
Compatibility :
Live 9.0.2 +
Max 6.1.2 +
More information ? Want to leave feedback ?
Please visit
http://flo.szk.fr
You'll get 1 file (3.9MB)