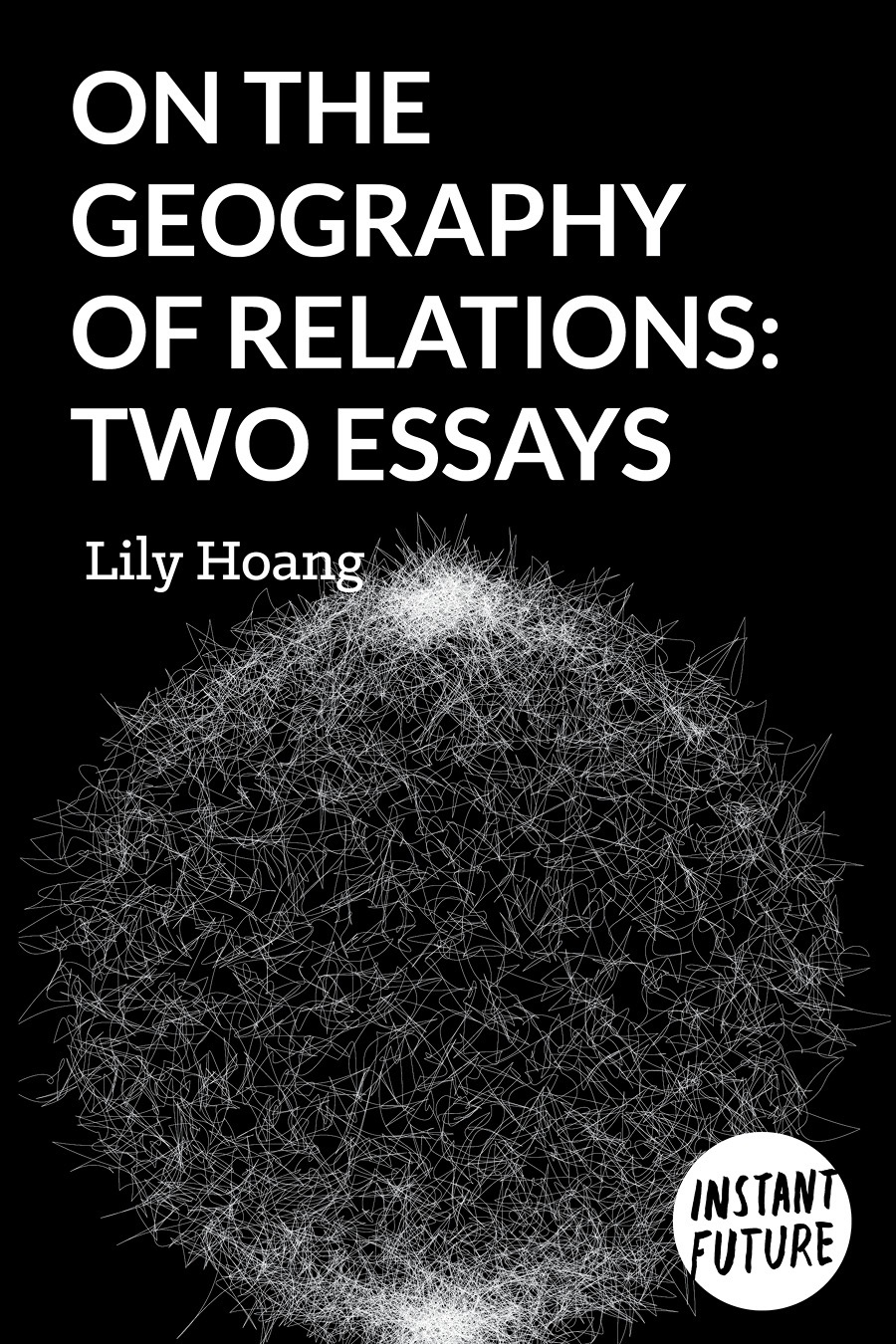 On the Geography of Relations: Two Essays by Lily Hoang
Lily Hoang's fragmentary and gorgeous essay duo, On the Geography of Relations, defies easy classification. It's a gathering of observations, a collection of quotations, a confessional, and a loose weave of interconnected ideas that invoke the way our own relationships interconnect in our lives.

It's a hybrid marvel and a text that, with every rereading, rewards its audience with insight and beauty.

"Lily Hoang's cycle of voices enchain like numinous glass beads in a serialized stream of consciousness. Thoughts dash and catch in the light of her artificing, then gather. And from the pool, her own living voice rises, lucid and uncanny. A voice so pulsing with the sympathetic vibrations of her own living self, it seems somehow, as if through some harmonic process, to return in a feedback loop to some ghastly point of origin as old and vital as friendship itself."—David Ryan, author of Animals in Motion

Lily Hoang's books include A BESTIARY (Cleveland State University Poetry Center, 2016), THE EVOLUTIONARY REVOLUTION (Les Figues, 2010), and CHANGING (Fairy Tale Review Press, 2008), recipient of a PEN Open Books Award. She has two novels forthcoming: Old Cat Lady and The Book of Martha and she co-edited the anthology THE FORCE OF WHAT'S POSSIBLE: WRITERS ON ACCESSIBILITY AND THE AVANT-GARDE (Nightboat Books, 2015). She teaches in the MFA program at New Mexico State University, where she is Associate Department Head. She serves as Prose Editor at Puerto del Sol and Non-Fiction Editor at Drunken Boat.
You'll get a 1.7MB .EPUB file.
More products from InstantFuture