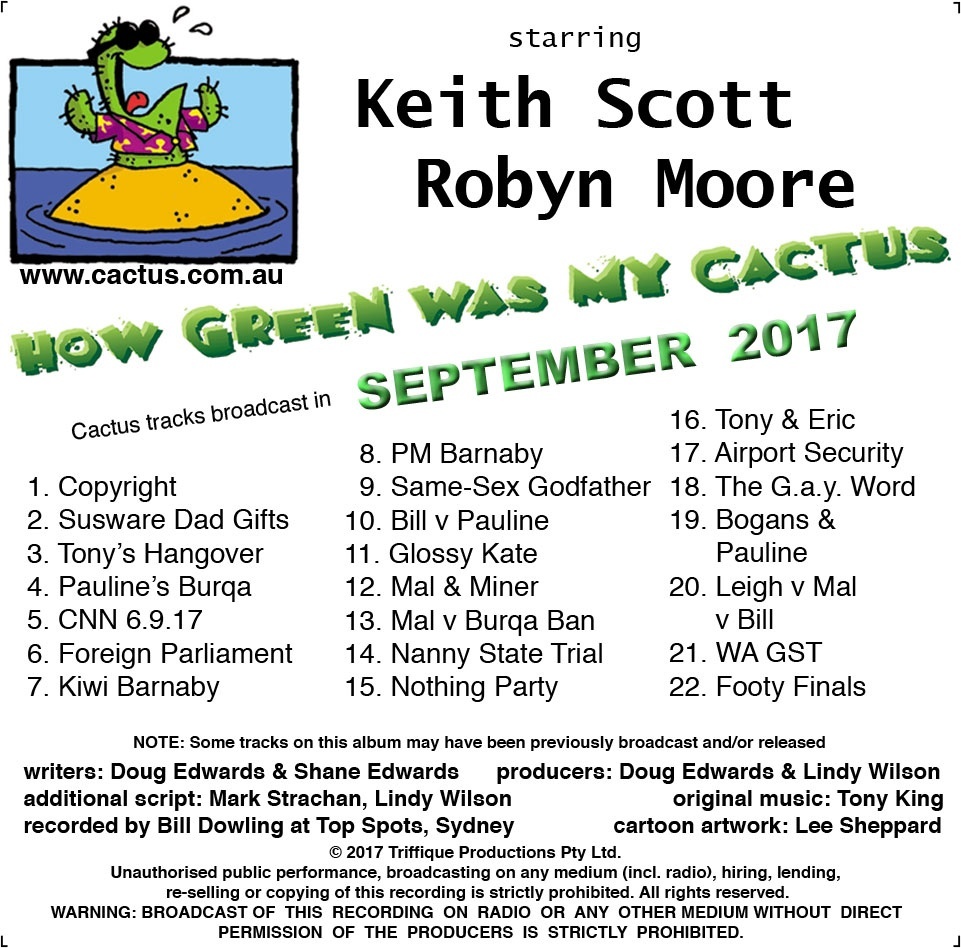 CACTUS - September 2017
CACTUS
SEPTEMBER 2017
TRACKS
1. Copyright: All material downloaded is copyright.Unauthorised public performance,broadcasting on any medium (including. radio),hiring,lending,re-selling or copying of this recording is strictly prohibited.All rights reserved. ©2017 Triffique Productions Pty Ltd
2. SUSWARE DAD GIFTS: Hey offspring! Not sure what to get Dad for Fathers Day?! Let Susware Online match your dad with the right gift at suswarefatherlovers.com.caymanislands!
3. TONY'S HANGOVER: Great Moments in Political History! Tony Abs sleeps off a hangover in his office, lying in a crumpled heap, face down in his open Bible.
4. PAULINE'S BURQA: One Notion Party leader Pauline Hatful wears her black burqa into the Senate. Senator Penny Ping Pong approves because she can't hear a word that Pauline says.
5. CNN 6.9.17: Sports guru Big Gazza Roidman reports that champion racehorse Winx may be off to conquer Europe, a feat not attempted since 1939.
6. FOREIGN PARLIAMENT: More cases of dual citizenship plague Parliament. Mr Speaker sees more foreigners working in parliament than in 7-Eleven.
7. KIWI BARNABY: The National Party berates its leader Barnaby Joh for having inherited New Zealand citizenship because his father was born there. Barnaby says he has renounced his father.
8. PM BARNABY: When Barnaby Joh stands in as Acting PM while Malcolm is overseas, he tries to stamp out climate change by making it illegal.
9. SAME-SEX GODFATHER: Greens Godfather Richard Corleone demands that Mal Talkbull legalise same-sex marriage or go to the bottom of Lake Curly Gherkin in biodegradable cement shoes.
10. BILL v PAULINE: One Notion Party leader Pauline Hatful seeks the support of Bill Curly to ban the burqa. Pauline thinks people in burqas could be anyone, like Hitler or Rolf Harris or a crocodile.
11. GLOSSY KATE: In this week's Women's Glossy, it's the dashing, dreamy Prince William and delightful, dishy Duchess Kate bumper baby bump issue! Plus! Win a 'Push Kate Push' fridge magnet!
12. MAL & MINER: An Indian billionaire who wants to build the world's biggest coal mine offers Mal Talkbull 20 million Indian 'yes' votes for his same-sex postal survey as part of the deal.
13. MAL v BURQA BAN: Senators Pauline Hatful, Jacqui Tacky and Cory Bananas demand that Mal Talkbull ban the burqa. Cory insists that women wear normal clothes like bustles, gloves and chastity belts.
14. NANNY STATE TRIAL: Judge Cranky hears a complaint from Senator David Goosehelm that the nanny state we live in won't let us carry guns to keep us safe from people who carry guns.
15. NOTHING PARTY: The Labor Party is surprised to find that it leads the opinion polls, even though they are led by Bill Curly, a man who makes his own cardigan look interesting.
16. TONY & ERIC: Ex-PM Tony Abs and Senator Eric A'putz discuss same-sex marriage, including the possibility of cancelling the citizenship of all gay people.
17. AIRPORT SECURITY: Increased airport security means an innocent old lady is strip-searched and has the sharp corners snipped off her hanky.
18. THE G.A.Y. WORD: Ex-PM Tony Abs confronts his Liberal Party colleagues over the same-sex marriage survey while dribbling bile on his rosary beads. 
19. BOGANS & PAULINE: Davo Bogan reveals himself to be a big fan of Pauline Hanson. In fact he's such a big fan that a court order prevents him being within 200 metres of Pauline.
20. LEIGH v MAL v BILL: Mal Talkbull says Blackout Bill Curly is so hopeless that he couldn't find his backside with both hands. Bill says Mal couldn't find his backside with a sniffer dog.
21. WA GST: Senator Derryn Livershot investigates WA's claim that it doesn't get its fair share of GST. West Australia may even secede from Australia and become a nation just called West.
22. FOOTY FINALS: Malcolm Talkbull gets into the spirit of footy finals season by removing his tie. The last time Mal had his tie off was when he'd been mugged at the beach and had it stolen.
COPYRIGHT: All tracks and material ©2017 Triffique Productions Pty Ltd. All rights reserved. All material downloaded is copyright. Unauthorised public performance, broadcasting on any medium (including. radio), hiring, lending, re-selling or copying of this recording is strictly prohibited. All rights reserved.
You'll get a 41.9MB .ZIP file.
More products from doug_e