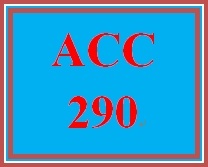 ACC 290 Week 5 participation Ch. 7: Overview with Paul Kimmel
Entire Course Link
https://zh.scribd.com/document/340327850/Uop-Tutorial
 ACC 290 Week 5 participation Ch. 7: Overview with Paul Kimmel 
Watch the "Ch. 7: Overview with Paul Kimmel" video located in Week 5 Video Assignments in WileyPLUS.
Consider the following as you watch the video:   
In this video, Paul Kimmel, the co-author of your text, talks about fraud, internal controls, and the benefits of internal controls. This video also shares with you what is ahead in Ch. 7.
You'll get a 30.5KB .DOC file.