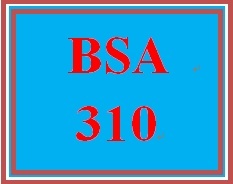 BSA 310 Week 4 Learning Team: Bubble Films Status Report
Entire Course Link
https://zh.scribd.com/document/340327850/Uop-Tutorial
 BSA 310 Week 4 Learning Team: Bubble Films Status Report 
Submit a 1- to 2-page team status report to your instructor explaining what your team accomplished during the week, research sources being considered, challenges your team faced, and potential approaches to the final Learning Team project.
Submit your assignment using the Assignment Files tab.
You'll get a 33.0KB .DOC file.