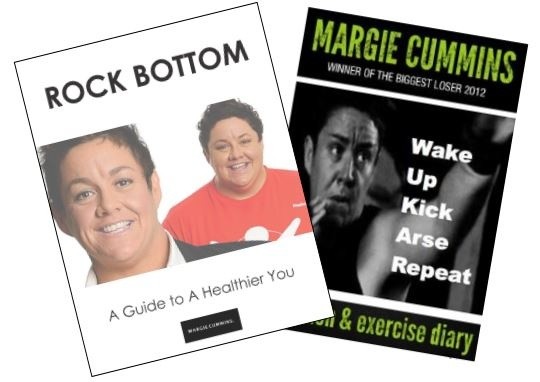 Rock Bottom Kick Start Package
This is the perfect starter package for anyone wanting to lose weight and track their success. Rock Bottom is the perfect Kick start weight loss plan and paired with Margie's Nutrition and Exercise Diary, you can track your exercise, food intake, calories and much more.

– ROCK BOTTOM – 

Rock Bottom provides information about weight loss, weight loss success stories and a set plan to help you lose weight quickly.  Released in early Feb 2014, Rock Bottom hit the ground running, selling 1000's of copies. Of those who registered their weekly weight loss, the group lost just over 4500kg! That's a lot of weight shifted! We have helped many transform their lives, becoming healthy, happy & confident individuals.

The SET core plan is based on fresh foods, fruit and vegetables, involves minimal preparation, which leaves you more time for the important things, like….. living!!  With 3 different ways to use the core plan, it is incredibly flexible and family friendly.  Buyers of the eBook also can ask to join to our private support group. We feel this is an essential part of successful weight loss.

There is no registering. Not waiting for rounds. No ongoing costs. 

– NUTRITION & EXERCISE DIARY –

The 12 week exercise & food diary is perfect for those who are wanting to record their weight loss & track their progress. It has plenty of room to write down your food intake, exercise plans, a section for notes on your day, a place to record your mood for that day, a section for your before & after pics, room to record your favourite recipes & a before & after weight loss success story. Your one-stop-shop!
You'll get 1 file (6.6MB)
More products from Margie Cummins