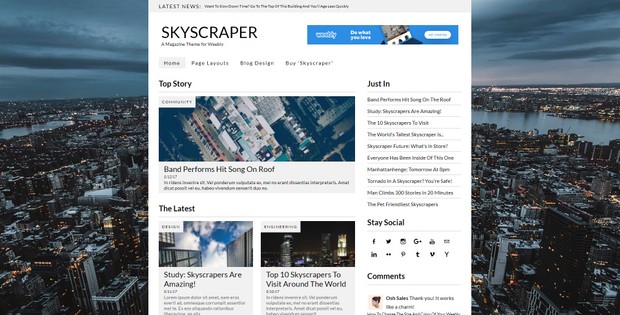 Skyscraper (Weebly Theme)
Learn more about Skyscraper here: 
https://weeblytricks.weebly.com/skyscraper-weebly-theme.html
In the Winter of 2016, Weebly Tricks wanted to push the boundaries of what a Weebly theme could do and look like. We were tired of Weebly themes that relied on just a massive high resolution image to define its homepage and overall styling. So after doing a little research in the Weebly community to find what Weebly users wanted from a Weebly theme, Skyscraper was born.
Weebly Tricks' most popular Weebly theme is back! Built on the latest Weebly platform, it's the most intuitive, light-weight, and easy magazine theme you'll ever use. We brought together the best of a magazine theme, with the user-friendly drag and drop interface of Weebly, to give you a simplistic control over Skyscraper's content management. You'll also relish in Skyscraper's built-in news ticker and its Weebly 4 customizable header.
You'll get 1 file (733.6KB)
More products from Weebly Tricks