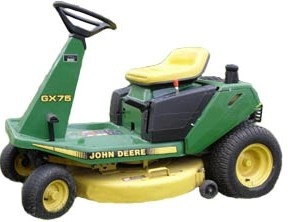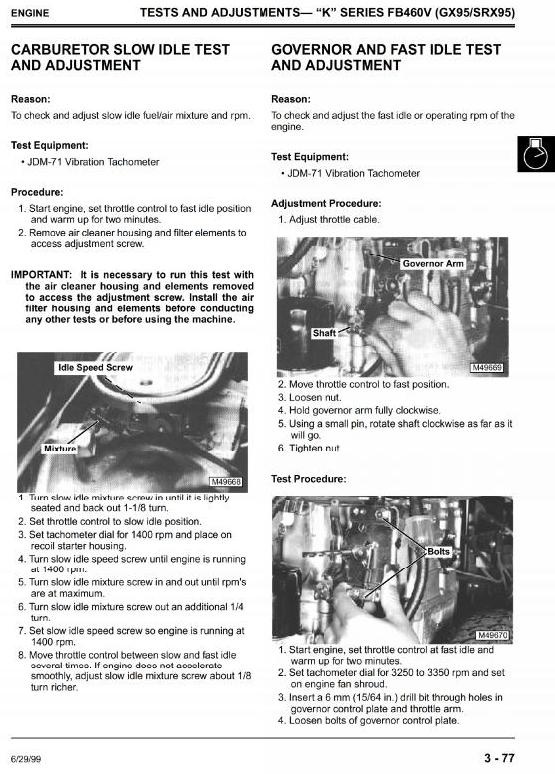 John Deere Riding Mowers: GX70, GX75, GX85, GX95, SRX75, SRX95, SX85 Service Manual (tm1491)
Original Illustrated Factory Workshop Service Manual for John Deere Riding Mowers.

Original factory manuals for John Deere Tractors, Dozers, Combines, Excavators, Movers contains images, circuit diagrams and instructions to help you to operate, maintenance and repair your truck. All Manuals Printable, without restrictions, contains Searchable Text

Covered models:
    GX70
    GX75
    GX85
    GX95
    SRX75
    SRX95
    SX85

Language: English
Format: PDF, 457 Pages
Compatible WIN/Mac

This technical manual is written for an experienced technician and contains sections that are specifically for this product. It is a part of a total product support program.
The manual is organized so that all the information on a particular system is kept together. The order of grouping is as follows:
• Table of Contents
• General Diagnostic Information
• Specifications
• Electrical Wiring Harness Legend
• Component Location
• System Schematic
• Wiring Harness
• Troubleshooting Chart
• Theory of Operation
• Diagnostics
• Tests & Adjustments
• Repair
Note: Depending on the particular section or system being covered, not all of the above groups may be used.
Each section will be identified witn a symbol ratnerthan a number. The groups and pages within a section will be
consecutively numbered.
You'll get a 187.9MB .PDF file.