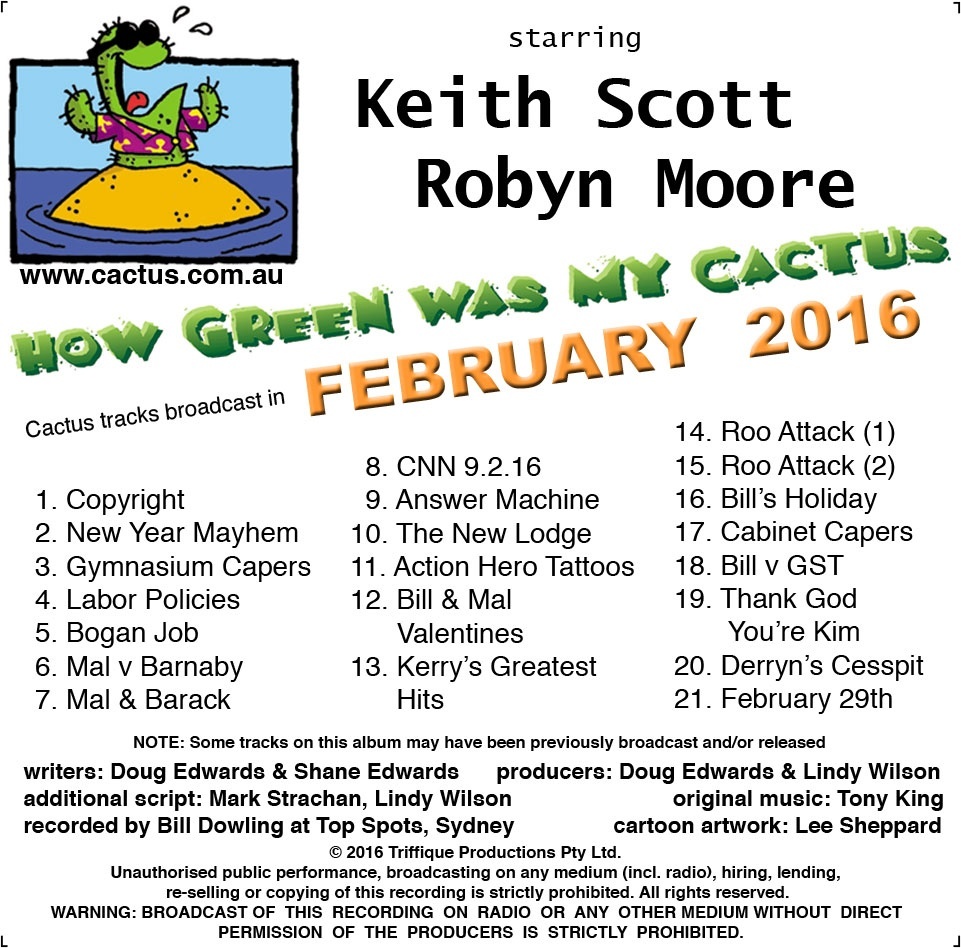 CACTUS - FEBRUARY 2016
DESCRIPTION CACTUS - FEBRUARY 2016 TRACKS 1. Copyright: All material downloaded is copyright.Unauthorised public performance,broadcasting on any medium (including. radio),hiring,lending,re-selling or copying of this recording is strictly prohibited.All rights reserved. ©2015 Triffique Productions Pty Ltd 2. NEW YEAR MAYHEM: Political super gob Mark Mayhem finds out what the new year means to people like Pauline Hatful, Anthony Mundane, Bill Curly and power couple Jamie Packer and Mariah Corkers. 3. GYMNASIUM CAPERS: In the parliamentary gymnasium, Tony Abs attacks Malcolm Talkbull with a dumb bell, Prissie Pyne. 4. LABOR POLICIES: The Labor Party has a bit of a problem with policies, which is like saying the Titanic had a bit of a problem with rising damp. To Make matters worse, ex-PM Kevin Krudd is back on the scene. 5. BOGAN JOB: Davo Bogan's CentreLink case worker offers him another job, despite his performance in his last job when he mixed up the brake and accelerator on a school bus. 6. MAL v BARNABY: Malcolm Talkbull convenes his Cabinet at his country property The Plunderosa where he farms cattle for his own private source of leather. Mal goes through a lot of wallets.  7. MAL & BARACK: Talks between Emperor Malcolm Talkbull and Barack O'Bummer are interrupted by Donald Dump who wants to demolish the White House to build another Dump Tower. 8. CNN 9.2.15: Sandra Silly with the news, Richard Richard with showbiz, and Big Gazza Roidman has the latest on Rugby League player Mitchell Pissed. 9. ANSWER MACHINE: Fresh from his drunken night in a Hong Kong bar, disgraced Liberal MP Jamie Dregs tries to leave a message of explanation on his office answer machine. 10. THE NEW LODGE: Emperor Malcolm Talkbull is disappointed with the renovations to The Lodge. 'Appalling. Nine million dollars and the tennis courts are still on the outside.' 11. ACTION HERO TATTOOS: Talkback advice action heroes Arnie and Sly talk about the dangers of tattoos and why you should never tattoo your girlfriend's name on your, er, manhood. 12. BILL & MAL VALENTINES: Mal Talkbull and Bill Curly take their wives to the same restaurant on Valentines Day. Mal's wife Lucy ushers him away: 'Blue blood doesn't mix with dishwater.' 13. KERRY'S GREATEST HITS: New from the ABC Shop! Former Four Corners host Kerry O'Pinion's Greatest Hits! Kerry grills George W Gump, Julia Buzz-ard, Bronwyn Biddy et al. 14. ROO ATTACK (1): Our homegrown terrorist Osama bin Wheelie decides not to attack Qantas because airport parking is too expensive.  15. ROO ATTACK (2): Homegrown terrorist Osama bin Wheelie plans to attack a police station with a kangaroo full of explosives. 16. BILL'S HOLIDAY: A first for Flopposition Leader Bill Curly. At his usual Christmas outing to the Kioloa fete he bobbed for apples without having to be revived with mouth-to-mouth later. 17. CABINET CAPERS: In Emperor Malcom's Cabinet, the abuse of refugee children is worrying Deputy PM Barnaby Joh. He's the one who replaced Warren Rust who died last July without anyone noticing. 18. BILL v GST: In Sherwoodchip Forest, Labor outlaw Bill Curly, alias Robin Brotherhood, is out to thwart the GST monster with the aid of his merry men Friar Albo and Penny A'Wong, alias Maid Not-marryin'. 19. THANK GOD YOU'RE KIM: North Korea's Dear Leader Kim Jong Nong shows off his new hair cut. 'If this doesn't show the world that I can do what I like, nothing will.' 20. DERRYN'S CESSPIT: Derryn Livershot reveals the secret thoughts of several politicians, like ex-Speaker Bronwyn Biddy who is so old that her liver spots have faded. 21. FEBRUARY 29th: Haaaartly Moistgusset talks to several women who have proposed to men on February 29, including singer Mariah Corkers and ex-model Jerry Tall. NOTE: TRACKS ON THIS ALBUM MAY HAVE BEEN PREVIOUSLY BROADCAST AND/OR RELEASED. Copyright: All tracks and material ©2016 Triffique Productions Pty Ltd. All rights reserved. All material downloaded is copyright. Unauthorised public performance, broadcasting on any medium (including. radio), hiring, lending, re-selling or copying of this recording is strictly prohibited. All rights reserved.
You'll get a 54.3MB .ZIP file.
More products from doug_e