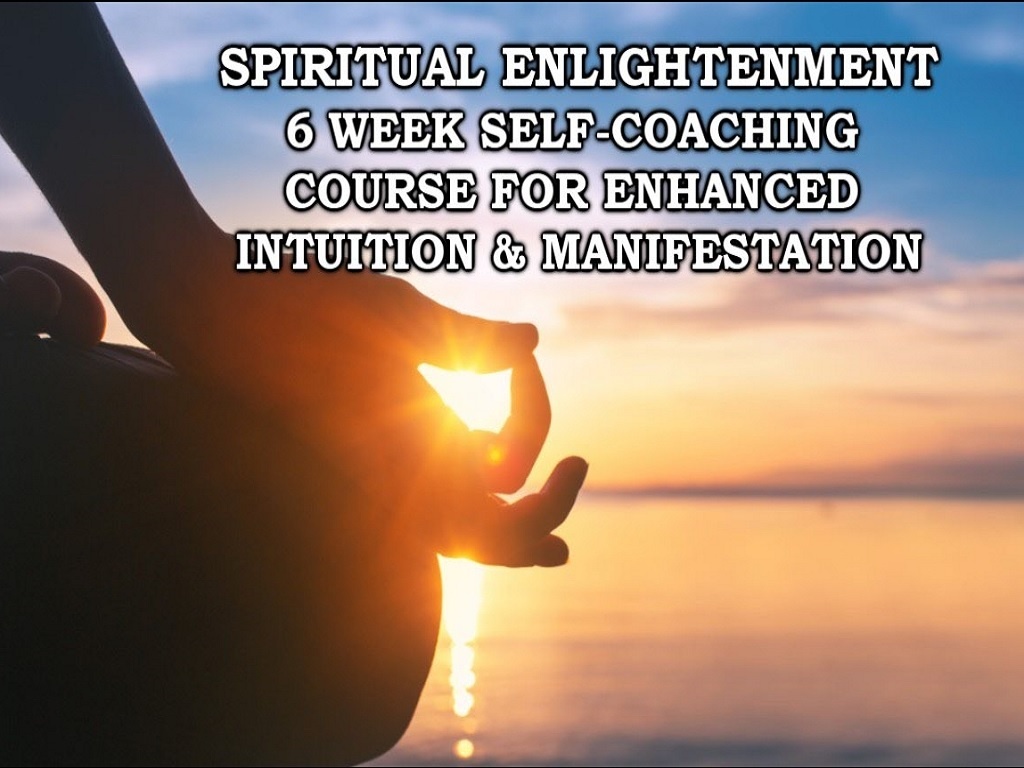 Spiritual Enlightenment 6 Week Self-Coaching Course for Enhanced Intuition and Manifestation!
By its very nature, the Law of Attraction connects you with higher, spiritual planes of existence. When you start practicing these techniques, you begin to see beyond the ordinary world of physical senses. This assists in establishing a deep connection with your Higher Self so that a new, brighter world opens up to you that is brimming with immense possibility!

This course will walk you step-by-step through six weeks of self-coaching. Throughout the 6 week process, you will establish an unbreakable connection with the Higher, Intuitive part of you that can handle any situation in your life and enhance your manifestation! This is a powerfully transforming course that will support you in connecting with who you truly are through the levels of mind, body and spirit. It will assist you in reaching enlightenment in all aspects of your life and amplify your creative power to manifest the existence you dream about!

The Course includes:
 
*Step-by-Step Guidance to Connect with Your Higher Self for  
success in all areas of life.
*An Understanding of Natural Laws and How Use Them to Your Advantage
*An In-Depth Description of Your THREE Minds and Their Importance in  
Manifesting What You Desire
*Deep Meditation Techniques
*Visualization Techniques
*Daily Affirmations 
*How to Master and Remove Negative Thoughts & Circumstances
*New Ways to Establish Positive Thoughts & Circumstances 
*How to Get Self Direction from Your Higher Self 
*BONUS EXERCISE - My Favorite Subliminal Visualization Technique
 *122 pages of exercises, techniques and information

Content copyrighted by Your Youniverse and respective owners.
By purchasing this product, you agree to our terms of service:
"All rights reserved. No part of this course may be sold, reproduced, distributed or transmitted in any form or by any means, including recording or other electronic or mechanical methods without the prior written permission of the creators as permitted by copyright law."

Products are hosted on a secure cloud server. Once a purchase is made, you will be given a unique download link with up to 5 download times available. Each download will give you unlimited access to this course.
You'll get a 1.9MB .PDF file.