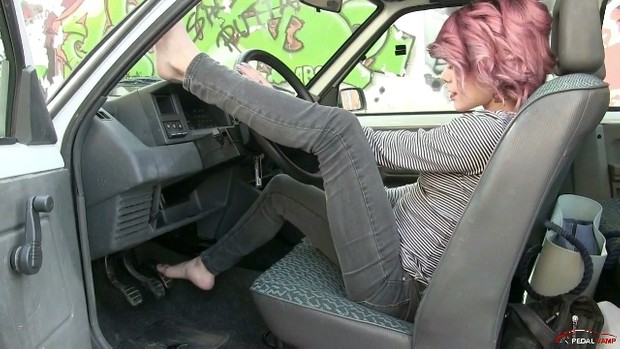 272 : Introducing Miss Edmea - Renault 5 hard revving
Spring time is coming and Pedal Vamp models are coming out from everywhere! Please welcome Miss Edmea.

She is a pro revver, and she can turn your head crazy as she can rev fast that engine! In her first video, she has to show her capabilities by revving hard the old Renault 5.

She is yet in the car, and she is ready to roll! She wants immediately to show you that she has a very unique and sexy revving style! Her black high heels are pushing on the gas pedal very nicely, and her body shows very well how much does she love this engine!

After a while, she removes her black high heels and starts pumping hard on the gas barefoot, so you can see how good does she like it!

Then she puts back her heels and start pumping the car while standing up, so she can see the hood and the engine running while revving it hard! While you watch this clip, the temperature of the old Renault engine will rise and you will start feeling some heat as well...
You'll get 1 file (425.4MB)